Internet Personalities Jump Into the Mainstream
Evan Candelmo, Online Arts and Entertainment Co-Editor
October 7, 2014
Whether we have seen them through a glimpse of the iTunes Hot 100, YouTube or recently on the red carpet, internet personalities are slowly working their way into mainstream media. Names such as Shawn Mendes, or Michelle Phan may ring a bell, but to get in on this new trend, one needs to understand the basics of an "internet celebrity."
Today, there tends to be two types of internet personalities: YouTube stars and Vine stars. With some earning up to one million dollars a year, it is surprising that some internet celebrities are not considered household names. YouTubers make money by putting ads next to or on top of their videos. For many, a video recording their daily lives can get 500,000 plus views. Others take to skits or do-it-yourself tutorials for their video content. YouTubers are now gaining a huge fan base, and to add to their fame, some are already touring across the world, writing books or appearing on reality shows such as Dancing With the Stars, like self-acclaimed beauty guru, Bethany Mota.
The 18-year-old video maker has been on YouTube since she was 13 and now has a fan base made of more than seven million dedicated watchers. Mota started using YouTube to escape the stress of bullying, and though widely popular throughout the site's community, she doesn't even rank in the top 10 most subscribed to YouTube accounts.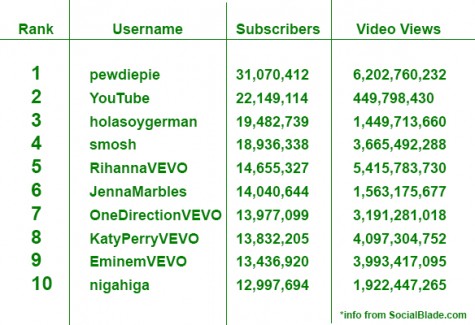 Above is a chart with info provided by SocialBlade, a YouTube analytic website, that shows the top 10 YouTubers. Mota has a fraction of the number of follows that comedian nigahiga, number 10 on the list, has. One may expect that the top 10 would be filled with One Direction and Justin Bieber, the latest crazes of the music industry, but in fact, five of the top 10 are original content creators.
No doubt, these media moguls are the next big thing to dominate popular culture.
Another addition to internet personalities are "Viners" who make seven-second long videos on the Vine app and are generally viewed as "up-and-coming" celebrities.  These videos are usually a quick cover of a top 40 song or a funny sketch. Some of these people have gone on to chart on the Billboard Hot 100, sign a record contract and even be featured in tabloids.
Us The Duo is an example of this type of fame. Married couple Michael and Clarissa Rae Alvarado took to Vine to show off their creative style of music with the world and their seven-second long covers have resulted in them having four million followers on the app.  This amount of fans is immensely larger than the social media accounts of artists who are topping the charts currently. For example, an artist currently sitting in the Billboard Top 10, Meghan Trainor has only 78.7 thousand followers on her Twitter.
Although many people still do not know how revenue is made through the phone app, Viners are getting prime fan bases and media coverage, and thus could be considered A-listers.
Both of these formats of media are actually, believe or not, working their ways into the halls of Walter Johnson.
Junior Taylor Connors has been active follower of  YouTube personalities for about a year and a half.
"They are showing you their personality because they aren't being interviewed and they do things like interact with their friends or vlog to show you what they are actually doing," she said.
Some of her favorite internet personalities include Laci Green, who produces health related sex-ed videos, Paint, a college student who combines comedy and singing with his editing skills, and Colleen Ballinger, who makes videos of herself as well as her comedic alter-ego, Miranda Sings.
The movement of internet celebrities into mainstream media might still be in the process, but it will be interesting to see the dynamic of these new stars in a different habitat as they work their way to the top.