Winter Wonderland with Danielle and Zack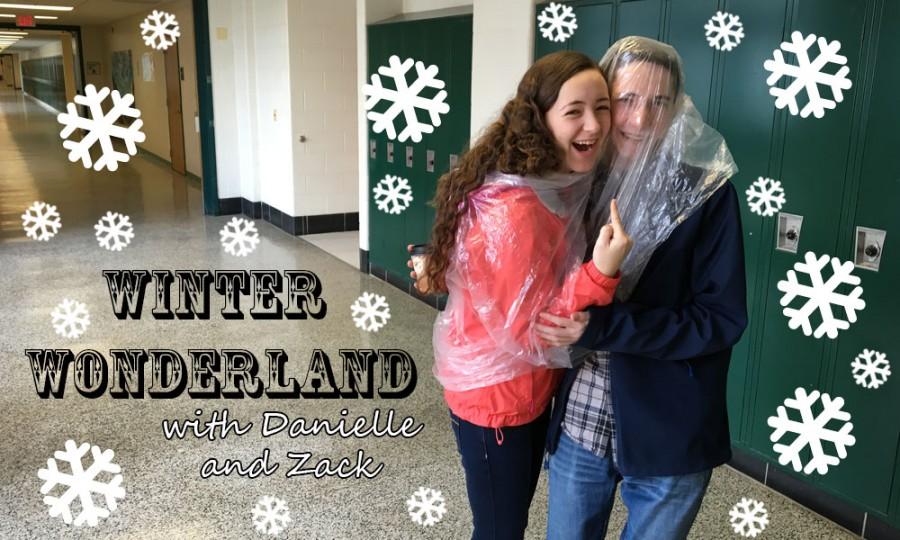 You all must remember the best Pitch article of all time: "Fall Fun with Danielle and Zack." As the months progressed, we ate our pumpkin products, cuddled in our warm sweaters, and celebrated Fallidays. But the time has come. The fall months have passed and it is officially the most festive season…. it's winter time! In this feature, we will cover the best winter food, clothes, activities and holidays. Grab your jacket and hot cocoa, because it's time to dive over the snow piles and into our Winter Wonderland!!!
WINTER FOOD
Hot Chocolate: Whether you call it hot cocoa or hot chocolate, you're about to sip on something delicious. Not only will it warm up your chilly hands in the cold winter weather, but it'll also warm your soul. With the addition of mini marshmallows, you'll feel the holiday spirit immediately
Danielle's Pro Tip: Try not to spill it on yourself. If it burns you, it'll hurt. A lot.
Zack's Pro Tip: Order hot chocolate every time you see it. This angelic delicacy is akin to snowflakes, no two cups are alike. Starbucks hot chocolate is strong and dark, while Dunkin' Donuts' hot chocolate is smooth and sweet. Nearly every restaurant offers their own unique take on hot chocolate, and you'll never know your favorite unless you try them all!
Gingerbread: There's a sort of comfort you gain from eating child-shaped cookies. However, the best part about gingerbread is aroma that fills your home as you open the oven to see your freshly baked cookies. I don't know about you, but my mouth is most definitely watering right now.
Danielle's Pro Tip: Stop what you're doing right now. Get in your car and drive over to Trader Joe's and buy their gingerbread cookies. SO. GOOD.
Zack's Pro Tip: Gingerbread by itself: eh. Five out of 10. Out all the varieties of Christmas cookies, gingerbread is definitely the blandest of the bunch. However, through creativity and hard work, gingerbread has managed to hang on as a staple of the holiday season. While it may not be the tastiest, gingerbread makes great building material. Constructing gingerbread houses is always a holiday highlight! We should all take inspiration from the way gingerbread has been able to overcome its subpar taste and maintain its relevance.
Student Snapshots:
"My favorite winter food is hard to choose because I love food so much. However, if I were to choose, I would say peppermint bark." –junior Sarah Sabet
"During the long cold months of winter, I appreciate the consumption of delicious hot chocolate to brace me from the cold." –senior Danielle Sadye Moss
WINTER CLOTHES
Gloves: Gloves are awesome. Buying gloves is like buying a tiny jacket for each of your fingers. Except there's no neck hole. So if your fingers needed to breathe they would probably die. Luckily fingers don't need to breathe. If you're not sure which gloves to pick, remember, the fuzziest gloves are probably the warmest gloves.
Zack's Pro Tip: Make sure they work with touchscreens, or you might as well cut off your fingers.
Danielle's Pro Tip: Wear gloves so you don't get frostbite and need to get your fingers removed by your local physician.
Winter Coats: It's beginning to look a lot like…. SPENDING ALL YOUR HARD EARNED MONEY ON AN OVERPRICED WINTER COAT!!! As the temperature drops, you'll find it imperative to have a nice jacket to keep you warm. Some are puffy, some are fleece, some lavish people get jackets filled with feathers of the finest geese in all the land. Even though you're going to empty your piggy bank to purchase this jacket, it'll be worth it when your mom is too lazy to scoop you and you're forced to walk home from school in negative five degree weather.
Danielle's Pro Tip: Get a leather jacket so you can match with Super Hot Fire.
Zack's Pro Tip: Put warm food in your pockets for added warmth.
Boots: The ultimate winter shoe.Whether you're rocking duck boots, Uggs, riding boots, Timberlands, combat boots, rain boots, or snow boots, keep your feet warm this season and always wear fuzzy socks underneath.
Danielle's Pro Tip: A lot of people hate on Uggs because they are "unattractive." Here's what I have to say about that– BOI UGGS ARE COMFY AS HECK AND I'M GOING TO BE WARM, I DON'T CARE HOW THEY LOOK AS LONG AS MY TOES STAY COZY, SO HATERS STEP BACK AND ENJOY YOUR COLD FEET.
Zack's Pro Tip: If you tie your Tims on the outside of the shoe, I hate you.
Student Snapshots:
"My favorite winter outfit is most definitely gray sweatpants and a grey sweatshirt, otherwise known as a Groutfit." — Sabet
"My favorite winter outfit is a nice pair of leggings, an oversized sweater and a scarf. It makes me feel happy and warm inside." –senior Ashleigh Wagar
WINTER ACTIVITIES
Skiing/Snowboarding: Sledding's older cousins skiing and snowboarding are extreme sports which are not for the faint of heart. Make sure you wear a helmet, because you're going to fall at least 89 times.
Zack's Pro Tip: The best part of skiing is the chairlift. For one, you get to sit down, which is always a positive. In addition, chairlifts offer the best vantage point for laughing at people falling. Tall people, short people, skinny people, fat people, old people, young people; everybody falls and it's always hilarious. Skiers are the best because when they fall, all their stuff flings everywhere. Sometimes if you're lucky, their skis tumble all the way down the mountain and you get to watch them trudge after it on foot.
Danielle's Pro Tip: If you're skiing with a snowboarder, spray with them with snow every time they sit down on the mountain. This is a subtweet to @Zack.
Sledding: Sledding is the reason god created snow. Grab some sleds, some friends, and a carefree attitude and go to the biggest hill you can find!
Zack's Pro Tip: Get on a sled with a fat person, you'll go twice as fast.
Danielle's Pro Tip: If you want to get mad street creds, make sure you have a classy sled. You know that every time you head to that big hill behind your local middle school that EVERYBODY is checking out your sled. So make sure you've got a good one so you can impress everyone you see.
Student Snapshots:
"My favorite winter activity is watching Christmas movies. The best Christmas movies are Elf, Home Alone 1 & 2, and the Santa Clause movies" — Wagar
"My favorite winter activity is watching movies with Ashleigh." –senior Christian Martinez
"My favorite winter activity is watching movies with Ashleigh and Christian." –senior Arsen Kliouev
WINTER HOLIDAYS
Christmas: This four-month long holiday begins in September and ends on Dec. 25. It's the time of year to celebrate religion, family and corporate America. If you're Jewish, it's a time to celebrate movies and Chinese food.
Zack's Pro Tip: The most important part of Christmas is making your Christmas list. Make sure you copy down the links to the products you want before you send your letter off to Santa. Sometimes it's cheaper to just buy something from Amazon than to pay the elves to make it. Also remember to add at least 12 stamps to your letter, the North Pole is pretty far away and you don't want your list to get lost in the mail. Also, rumor has it that Santa gives the best gifts to the kids who sit on his lap at the mall. Might be worth a shot!
Danielle's Pro Tip: I celebrate Hanukkah. 
Hanukkah: This shortened version of Christmas does an admirable attempt of capturing the magic of the season, but ultimately falls short of its Santa-driven competition. 7/10.
Zack's Pro Tip: Make a Christian friend so you can get in on all the Christmas action.
Danielle's Pro Tip: Meet an old Jewish woman and ask her to make you latkes and matzah ball soup. I have dibs on my grandma.
New Year's Eve: The saddest of the winter holidays, New Year's Eve is 20% partying, 15% Ryan Seacrest, and 65% feeling like death the next morning. Highlights include: DJ Khaled's mash up, the NHL winter classic, and betting on how long people will keep their resolutions.
Zack's Pro Tip: If you need a New Year's kiss, hmu.
Danielle's Pro Tip: This is an overrated holiday. I suggest you just take the L and go to sleep at 9:30. You probably won't miss much anyway.
Student Snapshots:
"My favorite winter holiday is Christmas because it is very festive and people are happy!" –senior Hayden Zavareei
"My birthday on December 30th is my favorite winter holiday because I've never had to go to school on my birthday" –senior Joel Maiman