Date Lab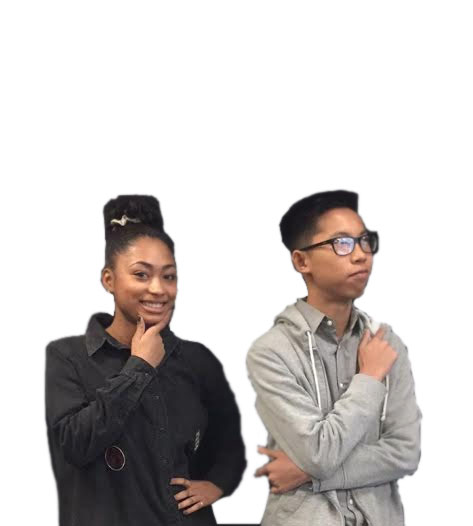 Naiya and Athen
Matched based on: Both are student-athletes and love outdoor activities
Results:
Naiya:  Last year I saw that the dating app went out and I was just kind of curious on what it was and I was kind of scared last year to do it but this year I was like SYFI!! I wasn't really hoping to get a relationship out of this experience, I just wanted to see who I'm  compatible with.
Athen: I heard about [date lab] in my digital art class when my friends mentioned it. The girl who sat behind me asked us if we wanted to participate, so my friend and I signed up. I also thought it would be a really interesting experience. I obviously didn't think I was going to find my "significant other," but meeting other people and making a new friend is what I primarily expected.
Naiya: I had never seen him or talked to him before…I was excited to hang out with him, though!
Athen: I was curious to see who I would get matched with based on a few questions. We were supposed to double date one of my friends but it fell through, so we planned on grabbing some lunch. Nothing fancy!
Naiya: We both like the same Starbucks drink (peach green tea lemonade), also we are both pretty chill people.
Athen: We went to Chop't and Starbucks and talked about general stuff in our lives like our hobbies, interests, etc.
Naiya: The date just felt like I was hanging out with a friend.
Athen: At first it was a tad awkward because you're meeting the person for the first time, but the date was overall successful from what I experienced.
Rating:
Naiya: I would give it an 8/10.
Athen: 8/10 from me, too.
Another Date?
Naiya: I would do it again, if I weren't a senior. I mean it's a good way to just make friends, not necessarily a boyfriend.
Athen: I would definitely do date lab again!
Gideon and Meredith
Matched based on: Both Jewish, love sushi and sci-fi movies
Results:
Meredith: We didn't know each other before the date. My first impression was that he was extremely nice and friendly.
Gideon: We both work on the morning announcements, but we had never talked. She seemed really nice.
Meredith: We ordered pizza from Domino's and ate it together at school. The conversation ran smoothly. We mainly talked about camping and hiking.
Gideon:  We talked and ate pizza. We both really liked camping.
Gideon:  A random person came over and joined our conversation, causing an awkward silence.
Meredith: I didn't have a favorite part. We decided ahead of time that it was going to be an activity as friends.
Gideon: [My favorite part was] finding what we had in common.
Rating:
Meredith: I would give it 10 out of 10 in terms of friendship.
Gideon:  9. It was really good, but nothing can ever be perfect.
Another Date?
Gideon: Maybe. We'll have to see.
Meredith: I still want to be in touch with him.
Sarai and Adrian
Matched based on: Love for theater, jazz music and french fries
Results:
Adrian: We knew each other way before the date.
Sarai:  Adrian and I knew each other beforehand. We are really close friends.
Adrian: I didn't have any first impressions because we already knew each other.
Sarai: We went bowling and I won, of course.
Adrian: We know each other so well and we basically have everything in common. We didn't have any awkward moments.
Sarai:  Adrian and I have a lot of things in common. We are low key the same person. All of our interests are the same.
Adrian: We talked about the weirdest stuff, including different methods of the dab and how I really sucked at bowling.
Sarai: We talked about stupid stuff, like dabbing with our legs and how I was winning.
Adrian: I liked being able to spend time with her and do something competitive.
Sarai: My favorite part of the date was spending time with him. It was lit!
Rating:
Adrian: I would give it a 10/10.
Sarai: The date was a definitely a 10/10.
Another Date?
Adrian: Yeah definitely!
Sarai: Adrian and I have dates all the time, so yes!