Student artists apply to specialized college programs
Consisting of a personal essay, written supplements and a questionnaire, the average college process is a workload that all applicants must take on. However, some students go further, applying for specialized programs in the arts. These programs delve into a wide variety of fields, such as visual arts, film production, acting and musical performance.
For each college application, visual artists must compile a diverse artwork portfolio, including media from oil painting to digital art. They then submit these portfolios for review by colleges' art or history departments. Creating these portfolios isn't limited to prospective art majors—many students entering non-artistic fields are also able to submit portfolios.
Other artforms require more focused, major-specific work. A notable example of this is the film production major, the intended course of study for senior Hunter Hicks. For his college application, he had to compile a writing portfolio and script, direct and produce a short film about a character making a difficult decision. This project was a step out of Hicks' comfort zone, but he was still satisfied with the final product.
"It's an interesting process of having to make something without being formally trained at all. You just have to trust your own ability to translate the concept into reality and hope they like what you make… There was a lot of duct tape and shoddy light supports or tripods just off camera, but I got the shots I needed, so it all worked out," Hicks said.
Hicks' enthusiasm for his short film began before he even began the college application process. Having had little to no prior experience with filmmaking, he relished this opportunity to delve deeper into his interests.
"Despite being very passionate about film, I hadn't really given myself the chance to just go out and make something. This was as good an opportunity as any to actually put some ideas and concepts I had to good use and bring them to life," Hicks said.
Other students, like senior Grant Mateo, have a much more intensive application process. Mateo intends to major in theater, with a specialization in acting for TV and film. Throughout his college application process, he has needed to submit a headshot portrait; two contemporary or classical 60- to 90-second monologue pre-screen auditions; a two-minute-long wild card video to show off a skill or explain who he is; both a professional theater and arts resume and a regular resume; and three to six bonus essays in addition to the regular required personal essay, writing sample and questionnaire.
If Mateo passes this first audition round, he has to attend either an in-person or virtual live audition, performing as much as each college requires in order to gain further approval and eventually be accepted. For Mateo, this process is physically draining.
"This process is exhausting, and I haven't even gotten to the scholarship applications and essay work yet… Balancing the applications, a job, after-school theatre and martial arts is rough physically and mentally. Burnout sucks, and people tend not to understand the lengthy and difficult process it takes to submit a good application for acting, and they always try to one up you due to their academic choice being 'more difficult,'" Mateo said.
Having to submit so many supplemental materials and prepare for in-person auditions in California and New York has left Mateo working nearly every day since the start of September. Though he is going up against people with more resources and professional help than himself, he remains hopeful that he will be accepted into his desired major.
"Respectfully, theatre kids who commit to this as a career are talented monsters, and I will never not be intimidated by them. I'll never be able to comprehend how they can learn a complex dance or sing beautifully after just a few tries and then perform it at a professional standard. It's a very frightening feeling to know who you are competing against when you lack a lot of skills [other applicants] have [honed] since they were toddlers. But regardless, I try to remain confident," Mateo said.
However, even students who have been practicing the arts from a young age are intimidated by the college application process. Senior Will Joseloff, who has been performing on the violin for most of his childhood and intends to pursue a music performance major, finds the volume of supplemental materials that he has to submit uncomfortable and overwhelming.
"Typically, there are two rounds of the audition [before you can be accepted] — the pre-screening video round and the in-person audition if you pass the pre-screening. The auditions require a lot of repertoire and are very stressful, since they have the most [impact] on your chances of getting into the music school… With all the video cameras, audio files, online portals and competitive auditions, applicants are forced to make beautiful music in a rather unmusical and unnatural format," Joseloff said.
But, like Hicks and Mateo, Joseloff remains overall undaunted. His love of his craft is enough to overcome any challenge.
"It was mostly inspiration from my wonderful teachers, coaches and mentors that led me to decide that I want to incorporate this activity that I am so passionate about into my college and career goals… Colleges look for people who are motivated and enthusiastic, character traits that come way easier when you genuinely love what you do," Joseloff said.
Your donation will support the student journalists of Walter Johnson High School. Your contribution will allow us to purchase equipment and cover our annual website hosting costs.
About the Contributor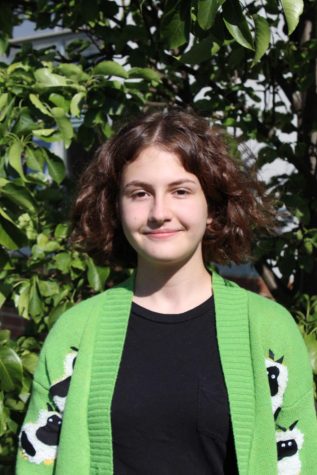 Sophia Meytin, Staff Writer
Sophia Meytin is a senior at Walter Johnson, and this is their first year on the Pitch. Outside of school, they enjoy baking, gardening, and singing in...