Club Profile: Pep Band
Courtesy of Marissa Nardella
Hang on for a minute...we're trying to find some more stories you might like.
WJ is known for its spirited students and staff. To help pump up the crowd even more is WJ's Pep Band, a group of 30 members who play at sporting events and other outside school activities.
Co-leader of the squad, senior Jesse Cole, joined his freshman year initially wanting to get into football games for free. He soon learned how fun it was to be part of such an exciting experience.
"[Pep Band is] a much looser environment compared to an ensemble preparing for Festival during school," he said. "We still try to learn our songs as best as we can, but it's a totally different feeling with our main goals being to have fun and play as loudly and as spirited as we can."
During football season, the group only practices an hour and a half before games. Since a majority of members return yearly, the most popular songs are familiar and do not require too much practice.
"This year, we did add three new songs, and a lot of our rehearsal time was spent learning and perfecting them, mostly on our own, but sometimes with [music teacher Christopher Kosmaceski's] help," said Cole.
Kosmaceski frequently helps organize gigs for the group. They are repeatedly requested for WJ Music fundraisers at Noodles & Company at Montgomery Mall and also play at Ashburton Elementary School's Halloween Parade.
"We have a lot of fun playing [at Ashburton], and it's great to see the kids enjoying it, too," said Cole.
Both Cole and Kosmaceski encourage any student who plays an instrument to join, even if the instrument is not traditionally used in a pep band. According to Cole, there usually is another instrument's part in the same key and clef that can be used.

About the Writer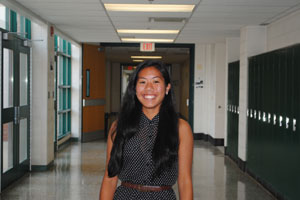 Christine Bersabal, Staff Writer
This is senior Christine Bersabal's first year as a staff writer for The Pitch, and she is very excited to become a part of such a dedicated and fun group of people. At school, she is a member of the Filipino Club and Varsity Soccer, while outside of school she enjoys playing Tetris, blogging and eating. One of her favorite shows is 30 Rock, partially because she secretly aspires to be Tina Fey. She hopes you enjoy reading The Pitch!