Plucking Strings with the Ukulele Club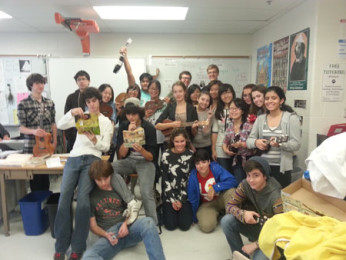 Advertisement
Hang on for a minute...we're trying to find some more stories you might like.
What's that sound coming from Joanne Reynolds' room? It is the beautiful music of the Ukulele Club. The Ukulele Club is a fun and exciting group where people can come and show off their skills on the ukulele. The leaders of the club, juniors Nurani Illahi and Gloria Kim, came up with the idea to start the club two years ago when they were freshmen, and started the club last year as sophomores.
"At first we were interested in developing a sort of instrumental club," said Illahi. "We saw that [Reynolds] had a ukulele and we decided that it would be the perfect instrument because it was four strings and it was quite easy."
The Ukulele Club has grown to have at least 15 people during its one-year life. The ukulele is similar to the guitar, but is smaller and only has four strings, compared to the six or more strings on a guitar. According to Illahi, the song "Hey Soul Sister" by Train has greatly increased the popularity of this small instrument. Ukulele in hand, the students play during lunch every Friday in room G22. From songs by Jason Mraz to Train, the members of Ukulele Club teach each other new songs and simply play to have fun. They do not have set performances. 
"Everyone who comes [to the Ukulele Club] is really enthusiastic and everyone is just so friendly," said Illahi. "There's no reason to be worried about a performance. That really drives everyone to learn at their best and we get new members all the time and [the club] is great."
Students can come and play some chords, no matter their skill level. People teach each other songs all the time and there is always a new song to learn, or a song to practice and jam out to. Students do not need to have any previous experience with the ukulele to join the club, but everyone is expected to have their own instrument with them.
"It encourages [the new members] to try new things," said Kim. "Because, a lot of the time they're kind of shy, so the members have to get warmed up to playing instruments together. It also kind of introduces them to new music."
This club isn't only about learning how to play the ukulele; it is also a way to meet new people and really get into trying new things. The majority of the students in the club are there to just have fun, hang out with friends and play for fun.
"Nurani and I started the club during lunch," said Kim. "So everybody can have a place to come and play the ukulele."