Teacher Profile: Joanne Reynolds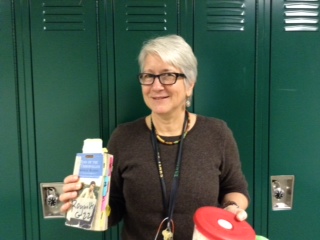 Advertisement
Hang on for a minute...we're trying to find some more stories you might like.
Joanne Reynolds works in the English department and is known for being WJ's class clown, but not many students know about her life outside of school.
Both her grandmother and her parents were teachers, but Reynolds started out wanting to be a journalist, and worked for two newspapers, until she realized that it wasn't her calling.
"I don't like to confront people very much, and in order to be a journalist you have to get in people's faces," she said. "So I did it for a while and I enjoyed it. It is quite fun, lots of action… I also knew I wanted a family and I knew that wasn't going to work."
Reynolds grew up in Los Angeles and went to the University of California, Santa Barbara for two years, later transferring to Reed College in Portland, Oregon.  She got her first teaching job at North Bethesda Middle School in 2001, and she ended up being interviewed for a job at WJ. But before she started at WJ, she was a cook in a school in England and worked as a secretary. Due to her husband's journalism job, she lived overseas for eight years and lived in London for six years, and later moved to Moscow for two years.
Her worst jobs were some of the first jobs that she had when she started her teaching career.
"If the kids are not motivated and you don't have support from other staff members, it's a really hard job when you're starting out," she said. "It can be a really good job but it can also be a really, really hard job, and a really lonely job if you don't have any help."
One of the reasons Reynolds chose to be a teacher was because she enjoyed being around young people, because of their ability to cheer her up.
"You get into a classroom and the kids just cheer you up," said Reynolds. "It's a very uplifting dynamic… I've had office jobs. Boring. The youths are so much fun to be around. I find adults to be boring."
She said teaching was not what she thought it would be; she didn't expect there to be so much work and said she gets more work than the average person with an office job.
"There's a lot of elements. You're managing, grading, planning… It's demanding in a lot of different ways, whereas other jobs might be demanding in one or two ways. This seems to have a few more demanding elements to it than most jobs."
She chose teaching because she knew she enjoyed to write, and she wanted to write novels during the student's recess period.
"I haven't written any novels by the way," said Reynolds,."So don't ask me for my autograph. "