Teacher Profile: Nico Atencio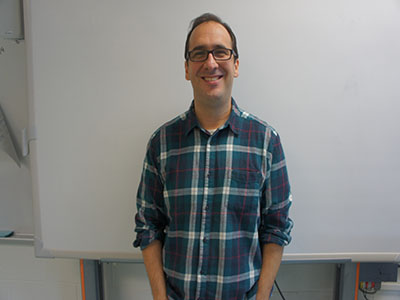 Walking into Nico Atencio's main-floor classroom at lunch, you may be tempted to apologize for interrupting a class in session. That's the impression that the room invariably gives at this time of day–it is rare that Atencio is not found inside, and with the company of several inquisitive students. He stands at the front of the room, an enormous skee-ball machine in the back (a gift from some former students), and a throng of perplexed students in between. He spends many a lunch period this way: patiently and cheerfully answering student questions about the notoriously difficult AP World History course.
Atencio's consistent availability and willingness to help is well-known to his own students and to many others, who are very happy to take the opportunity to get help. And as he came, from a family of teachers, it is probably a surprise to no one that teaching is Atencio's chosen profession.
A surprise to no one, that is, except to Nico Atencio.
"When I was younger…I was pretty set. I wanted to work in politics. I found it extremely fascinating, and so that's the direction I wanted to go…I had no intention whatsoever to become a teacher," said Atencio.
After graduating with a politics degree from American University, Atencio began to work in politics and campaigns around the country . He was able to have a front-row view of several historical events: attending President George W. Bush's first State of the Union address, for instance. However, despite his success in the political world, there was something from his past that was nagging at him.
"I had a math teacher who was incredibly helpful to me in high school…She knew that I was really struggling in math, so even though she wasn't my teacher, she kept on harassing me to come in for help. She really showed me that she cared about me, and it definitely made a difference to me," he said.
Atencio said that receiving this extraordinary care from his teacher was very meaningful to him, and it made him want to help others in the same way that his teacher helped him. Remembering those experiences, he realized that if he was going to make a change, he had to make it soon.
"If I [continued in] politics… I would [have been] trapped. I would have [already] established myself…[I figured,] if I'm going to do it, I'd better do it now," he said.
Atencio left politics to become a teacher, and he said that he hasn't looked back since. He said that he still takes some interest in politics, but that he is increasingly more removed from political life. While he was a supporter of Hillary Clinton in 2008, he now says that there isn't a single candidate for the next presidential election that he could get excited over, including Hillary herself, the expected Democratic front runner. From this point on, he's focusing on being "Atencio the teacher", and on helping high school students with struggles very similar to those that once belonged to "Atencio the student."