Music program budget cuts around the country raise opinions at WJ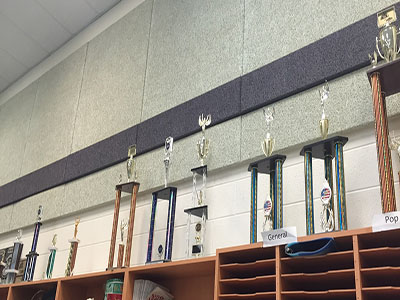 The music department is a very active department in the WJ community. The bands and orchestras practice all year for their semi-annual concerts, which are well received by audiences. Despite this, the participation in music courses has decreased over the years due to a lack in popularity.
Schools around the country are cutting the music departments due to lack of funding. Many in the WJ community believe music classes are an important way to allow kids to express their creativity.
Chorus teacher Kelly Butler has worked in the WJ music department for three years.
"[I love] seeing the kids improve, not just over one year, but over many years. It's fun to see people go through their senior year and watch all of their accomplishments," said Butler.
Butler hopes that the amount of kids playing instruments or singing in the chorus will increase over the next few years.
"Hopefully [the popularity will] increase. The school is getting bigger, so hopefully we will just keep getting new kids," said Butler.
Freshman Toni Koroye plays the cello in the concert orchestra. She has participated in the winter and spring concerts, as well as the annual county orchestra festival.
"I think [the popularity of music programs] will probably decrease because there is now more pressure to do academics over arts," said Koroye.
Koroye said she thoroughly enjoys playing in the orchestra, but understands why some schools are cutting music departments.
"I can understand that they are [cutting music departments] because not many people play instruments anymore," said Koroye.
Freshman Holden Rafey also plays the cello player in the concert orchestra, but has a different opinion about the cutting of music departments.
"I think it is important to have the opportunity to learn music in school and it helps you do well in other subjects too," said Rafey.
Butler said she greatly hopes that the music department's budget does not get cut because she loves working with all the students, teaching the thing she loves.
"It's too bad [that music departments are being cut], because I know kids need a break, they need something social, physical, they need something that is not always pencil and paper," said Butler.