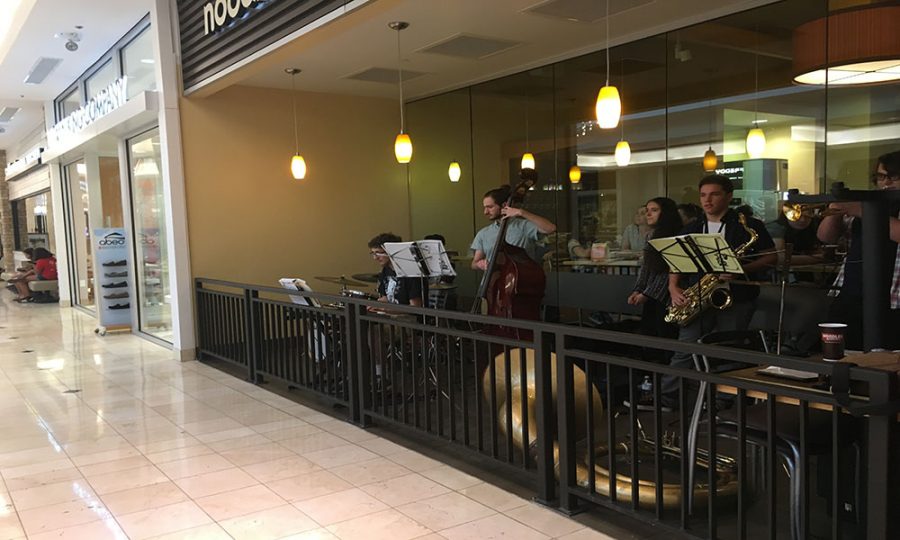 The halls of Montgomery Mall were alive with the sound of music this past Wednesday, Sept. 15. With people lined up outside and each seat taken in the popular restaurant Noodles & Company, the music of WJ's choral groups could be heard from across the mall.
Madrigals, a competitive chorus conducted by WJ's choral teacher, Kelly Butler, showed off their talent last week along with other a capella groups such as the all-female group Vanilla and all-male group Chocolate, for an event to raise money for the music department. The pep and jazz band also kicked off the performances and wrapped them up at the end of the night.
The fundraiser is nothing new to the school, and has been bringing in money for the department for around a decade. The tradition started when the restaurant first opened and needed a night to advertise and bring in customers to the new store.
"It's just for the music department, so if we want to bring in clinicians or if we want to bring in guests or anything… Any donations just go to a general pool, and we designate it to where it's needed," Butler said.
However, the event is not solely for fundraising. It also provides a good concert experience for the newcomers to each of the ensembles. Senior Adrian Mora, an experienced Madrigals and Chocolate member, describes the best part of the fundraiser for him.
"Performing for all the new people coming into school… to let them know what the music department is really like," Mora said.
The fundraiser takes place usually just two weeks after the start of the new school year, giving the choruses and bands only that much time to learn and perfect multiple songs.
"It's really intimidating at first, because of how fast we move, and if I have done that before it hasn't been for a really long time, so it was intimidating, but I was able to do it and now I basically have everything memorized. We'll do pretty good, and we'll make progress throughout the year like every ensemble will," junior Madrigals and Vanilla member Lauren Black said.
All in all, the fundraiser is a popular and rewarding event for all parties involved, including those who get to experience the music being made.
"I've really liked the performances so far. They sound really good. I don't know anything about music, but I like listening to them!" junior Emery Grahill-Bland said.
From the pep band to the acappella groups, the talent of the music department is shown off at this great event, and will continue to benefit the department for years to come.