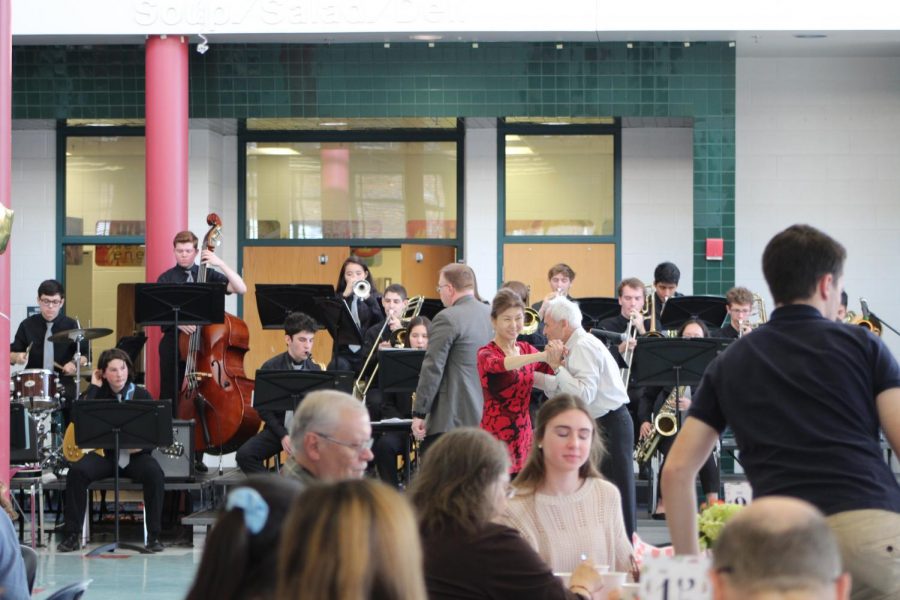 Photo by Rafael Friedlander
Every November, WJ Key Club hosts a very special event. The Senior Citizen Luncheon has been a tradition for decades and attracts around 150 seniors from local nursing homes for a day of music, food and togetherness.
"It's just a nice way to have food, have a good time and help our community," senior Taylor Kelly said.
As a leader of Key Club, Kelly is very involved in the planning and execution of the luncheon. Key Club has hosted two different fundraisers this year in addition to lobbying for money from the Booster Club in order to pull off this event.
In addition to serving an authentic Thanksgiving meal, the event includes performances from jazz band and multiple WJ choirs. Key club members participate by doing anything from decorating the cafeteria, acting as waiters, or sitting and chatting with the seniors.
"[The seniors] just really enjoy seeing that kids are doing something productive," chorus teacher Kelly Butler said.
The luncheon has been a tradition for decades and attendees not only get to interact with the students, but also often reconnect with old friends from other homes in the area. Everyone seems to really enjoy themselves and at any given moment, you're likely to see an elderly couple cutting a rug on the dancefloor, to a familiar soundtrack of classic "Big Band" tunes courtesy of jazz band.
"I think everything was handled beautifully… everybody is polite… the music is outstanding… It's very sweet\; it's a great thing to have," attendee Kathy Pell said.
In a time when "Ok Boomer" is on the tip of everyone's tongue and generational tension over issues like climate change and the job market is higher than ever, an event like the Senior Citizen Luncheon is a refreshing olive branch of sorts\; a way for Gen Z to try to connect with and befriend their elders. Kelly said it best:
"In the end we're all pretty similar."