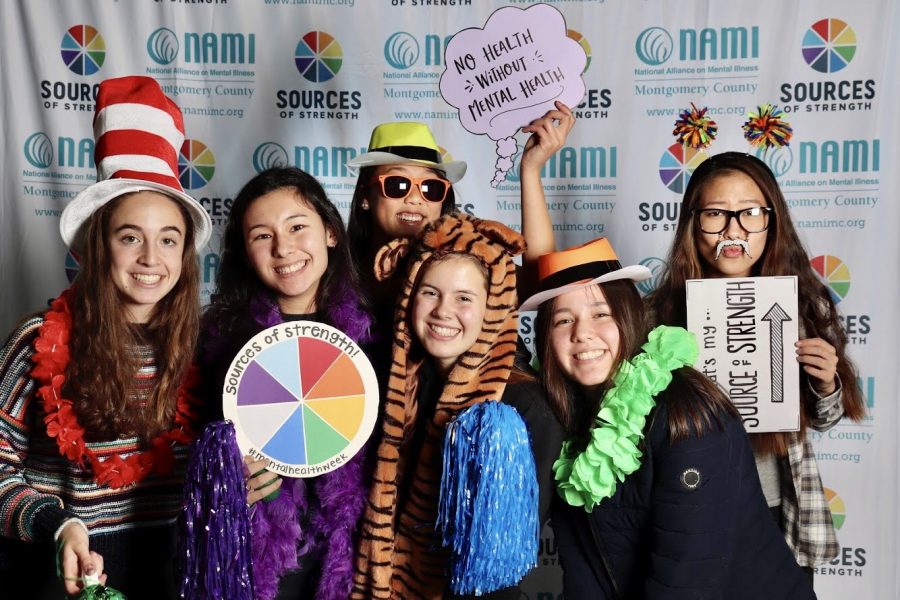 Photo courtesy of Sources of Strength
MCPS recognized the month of November as Mental Health Awareness Month. In an effort to promote mental well-being for students and staff, schools in the county hosted events centered around themes of mindfulness, wellness and problem-solving.
"Mental health is extremely important, more so important almost than anything else," MCPS Mindfulness Coordinator Jeff Donald said, according to MCPSTV.
Sources of Strength, a club at WJ that focuses on eliminating the stigma around mental health and promoting positivity and suicide awareness, hosted a week of events centered around promoting positivity and mental health. Events included compliment balloons, lunchtime meditation and a mental health-themed photo booth.
"Our main goal was to get the word out about mental health into the student body and I believe we were able to do that," Sources of Strength Vice President Bridget Fannon said.
Along with the photo booth event, Sources of Strength in partnership with National Alliance of Mental Illness (NAMI) Montgomery County provided pamphlets and resources for students about common mental health issues and how students can get help.
In a time when students face more stress and pressure than ever, events like these are a great way for students to become more educated on mental health and learn how to deal with it. All of these efforts hope to spread the message that "you are not alone."
"In the past, there has been such a stigma around mental health and we need to spread the word that it's okay and that there are resources for people who need them," sophomore Sources of Strength member Annie Sylvester said.
One in six children in the United States ages 6 to 17 experience a mental health disorder each year. MCPS has also launched a new initiative, BeWell 365, focused on mindfulness. The initiative incorporates activities to promote physical health, mental health, problem-solving and bullying prevention, as well as various other aspects of wellness.
Students and staff alike hope that efforts like these can help to alleviate the stress they endure daily from the pressures of school and bring WJ closer together.
"I think that WJ has gained a community of people that support each other and want to help each other," Sylvester said. "By doing these campaigns, we are showing the rest of the student body that we are there for them."