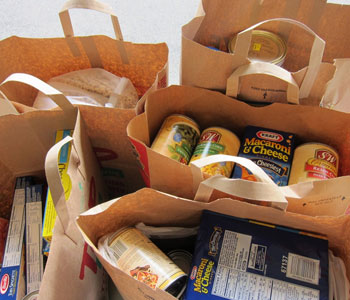 Photo Courtesy of Houston Food Bank
After a huge success in 2020, Alana Aschenback and Mike Delp have announced their plans to sponsor another Thanksgiving food basket drive. Anybody wishing to donate can do so by: purchasing all of the items on the list including a $25 Subway or Giant gift card for turkey, purchasing only the food items on the list, purchasing only a gift card or sponsoring any number of baskets by sending either $50 for a whole basket or $25 for food items or a turkey gift card.
The drop off date for any items will be on Nov. 19 at Walter Johnson High school, and Starting Monday, Nov. 15, there was a box placed in the office for anyone who wishes to drop off beforehand.
Last year over 70 full baskets were provided to WJ families in need. The Guidance Counselor team at WJ will be working with families in need to arrange for these baskets to be sent to them and any families able to donate are urged to do so.
The list of food items to purchase includes:
1-2 boxes or bags of stuffing
1 box instant potatoes
1 jar turkey gravy
2 cans yams
1 bag marshmallows
2 cans green beans
2 cans corn
1 can cream of mushroom soup
1 can cranberry sauce
1 cornbread mix
1-2 dessert mix (brownie mix, cake mix or other)
Optional $25 grocery store gift card for Turkey