MCPS calendar change for 2018-2019 school year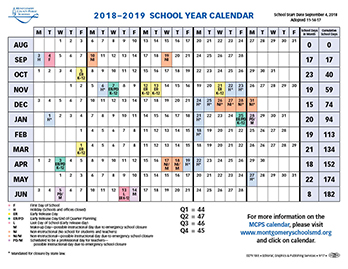 MCPS Board of Education's final decision regarding the 208-2019 school calendar came in a board meeting on November 14. The decision was to adopt Student member of the board, Matt Post's calendar. According to the MCPS website, the school year will begin on Tuesday, Sept. 4, 2018, and the last day of school is scheduled for Thursday, June 13, 2019.
The calendar includes 182 days of instruction; a six-day spring break (two of which are contingent emergency weather make-up days); two closure days for planning and professional development; two operational closures that coincide with Rosh Hashanah and Yom Kippur and one for the Muslim holiday, Eid al-Fitr. This is the first year in MCPS history that students have gotten off for a Muslim holiday.
"In general, it's a shame that Governor Hogan's executive order forced us to choose between Spring Break, teacher preparation time and operational closures on religious holidays," Post said. "This is the best compromise we could make within our restraints. I'm very happy that we were able to schedule a non-instructional day on Eid al-Fitr."
On Nov. 13, Post came to WJ to speak with the Minority Scholars Program, the SGA and leadership class.
"I'm here today… to hear [the] concerns you are having [and] bring [them] back to the Board so we can make school suck a little less," Post said.
The meeting's purpose was to gain differing views on the changing calendar. There are six days days available between Sept. 3 and June 14 that can be programmed for non-educational or operational priorities. At the meeting, many students had their own opinions about how to utilize the non-instructional days throughout the school year.
"I think we should actually cut back on the religious holiday that we get off," senior Amir Kalantary said. "We should get holidays such as Veteran's Day and extend Thanksgiving Break. Everybody celebrates Veteran's Day but not everyone celebrates religious holidays."
For students like sophomore Juwariya Omar, instituting a non-instructional day on the Eid al-Fitr makes her feel more included in the school religious community and educates WJ students about the Muslim culture.
"Eid al-Fitr is a celebration following Ramadan, where you get to eat, kindof like Christmas without a tree," Omar said. "I think it's a great benefit for the Muslim community."