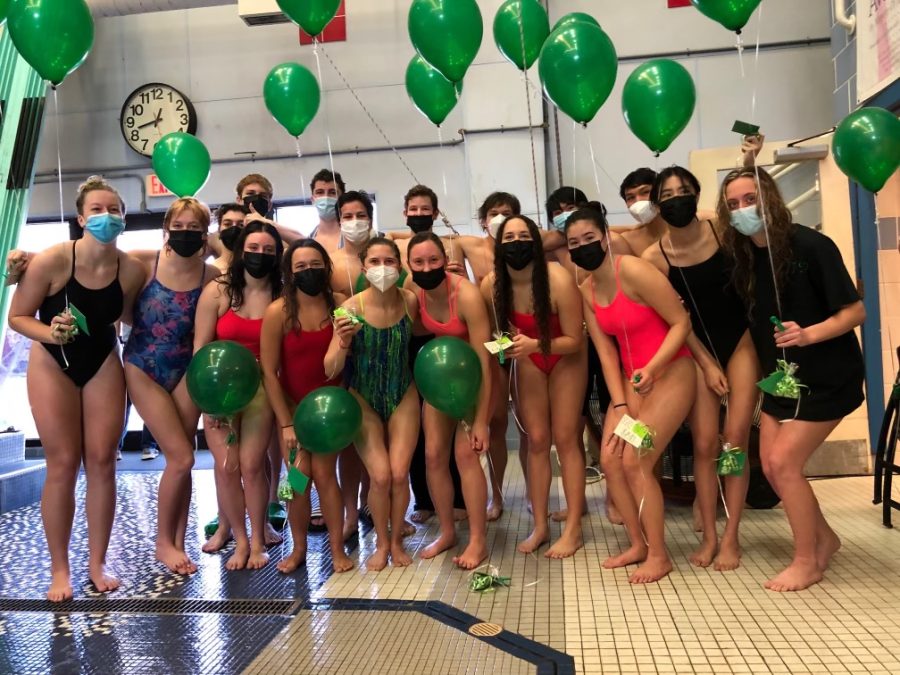 Photo courtesy of Hanna Juhasz
After weeks full of hard work and determination by the Aquacats, they consequently ended their regular season off with some fun at their senior meet against BCC at the Kennedy Shriver Aquatic Center.
Every time the senior meet rolls around, the seniors come together and agree to pick their own events to swim. For senior captain Lianna Rosman, she decided to take on her seemingly worst event, the 100m breaststroke.
"I wanted to swim an event that was really stress free for me and fun. In breast you breathe everytime you take a stroke and I love seeing my teammates cheering for me when I swim," Rosman said.
The seniors also decided to stand out by wearing neon suits in order to distinguish themselves from such a large group.
"Since the team always blends so well together, wearing the neon suits actually made me feel like a senior. It was nice to be recognized but it also made me reminisce about my last few years with the rest of my teammates in neon suits," senior Hanna Juhasz said.
During the meet break, the underclassmen lined up and made an arc with their arms for the BCC and WJ seniors to run through. The coaches then said the name of each senior, along with the event they specialize in. After running through, the seniors were handed balloons with green hershey kisses by their underclassmen teammates. Led by junior captain Sienna Karp, a handful of underclassmen devoted time before the meet to making senior shirts for all of the seniors to wear and remember the meet by.
"Our seniors are a huge part of what makes WJSD amazing. [Making shirts] was also a tradition that WJSD used to have but the past 6 or so years, they have stopped making them. I thought it would be a really fun idea to reignite the tradition and show the seniors that we care," Karp said.
For many of these seniors, this season will be their last time swimming competitively. Seniors like Laith Tuma are sad about this, yet very grateful for the time that they have had swimming for WJ.
"My time on the team has been a great experience and nothing but fun. I've made so many memories with friends during practices and meets. I hope others in the future get to experience how great the team is," Tuma said.
The season is not quite over yet. The Aquacats will have to switch gears back to putting intensity and the utmost effort into every practice as they prepare for the championship meets. Divisionals kicks off these meets and is followed by metros, regionals and finally states. After a promising regular season, the Aquacats look to make a huge splash in these meets starting with Divisonals on Saturday, Feb. 5 at the Germantown Indoor Swim Center.
"We done been underdogs all year. Time to smoke the division 1 pack," senior Alex Wolfson said.