Catch: Cleveland Browns win a game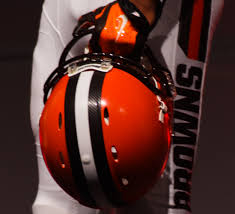 On January 14, something amazing happened: The Cleveland Browns finally won a game. Yes, you heard that right. The Cleveland Browns, the laughing stock of the NFL, have finally won a game for the first time in over a year, beating the Pittsburgh Steelers by a score of 27-21. As the clock ticked down to no time left in the game, Browns play-by-play announcer Jim Donovan perfectly conveyed the attitude of Browns fans everywhere by saying, "Do you believe in miracles? Yes!"
Through the whole game, everyone thought the Browns would lose. The first half was an absolute disaster, as quarterback Deshone Kizer threw five interceptions and the defense let up 21 points and looked horrific. By halftime, the score was 21-3 and nobody thought there was any chance the Browns could win. However, the second half was a different story than the first. The Browns came together with new life brought by substitute quarterback Tom Brady, throwing for 400 yards and three touchdowns. Coincidentally, Brady was reported missing by fellow NFL team New England Patriots earlier in the week. Other key players in the second half included wide receiver Josh Gordon, who caught two touchdowns, and head referee Gene Steratore and his crew, who threw 57 flags on the Steelers and only one on the Browns in the second half. After the game, coach Hue Jackson commented on his teams performance.
"Honestly, I never thought this day would come. I never thought this team would win. But somehow, against the odds, they did it."
Browns owner Jimmy Haslam also spoke after the game. "Dang it. I really wish they didn't win. Now I have to re-cement my position as worst owner in the league by not winning a game at all next season."
This historic win comes as only the fifth win in the past three seasons for the Browns. In comparison, the New England Patriots have 39 wins in the last three seasons. That's over seven times the amount of wins from the Browns from the previous three seasons. That's how bad the Browns are, which makes the win even better.
For Browns fans all over the world, the win is something they'll never forget. "I'm amazed. It's like my birthday, Christmas and my wedding all mixed into one day. I never thought this day would come, and now that it's here, it feels so good," longtime Browns fan,WJ sophomore Michael Rubin said.
For others, the feeling of winning has been away for so long they forgot what it feels like to win. "I've missed this feeling so much," Browns fan and sophomore Kai Walter said. "Now that it's back, it's even better than what I remember. This is a story I'm going to tell my grandkids someday."
This glorious win for the Browns will forever be installed in Browns history and will never be forgotten as the time the Cleveland Browns, the worst team ever in professional football, actually won a game.