WJ Boys Soccer: Under the Radar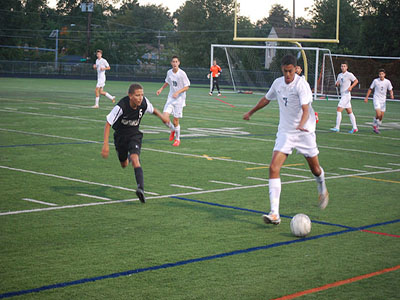 The Boys Soccer team has played very well this season. Living up to last year's 10-6-1 record and finish in the fourth round of the playoffs, seemed like an unlikely goal to many.  Many feared the loss of four players from the 2013 team, would have a negative impact on the team. Some people thought didn't know how the team would be able to fill those roles.
"Replacing seniors is part of the culture of high school sports," said coach Hector Morales.
The team will need to look towards the current seniors for leadership.  However, the team is currently defying the odds and playing very well.
The team has survived some tough tests so far this season. They began the season with a loss to a highly skilled High Point team, but since then have carried a five-game winning streak before their 1-1 draw against a challenging Blair team. One of those five wins was against a masterful Gonzaga squad in a 2-1 overtime thriller.  However, The team still has work to do, with some key match-ups upcoming against rival opponents. These include an important game at home against Whitman, which is also ranked in the Metro area poll and their final game at home against Blake.
To keep up the momentum into the playoffs, they will need to keep working hard and limit mistakes.
If the team maintains their excellent play they should find themselves set up nicely for a deep run in the playoffs.