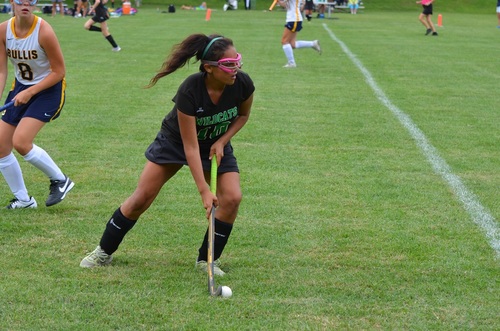 With four games left in their season, the WJ field hockey team needs some sort of spark to finish the season on a strong note. With a record of 4-6, the team isn't too happy with their results so far.
The majority of the games played have been within a margin of 1 or 2 goals but in the long run, the team hasn't been able to find their groove in the ending minutes of the games. With a huge win over Blair 2-0, the team hopes to keep up their winning streak and continue it into playoffs.
Four year varsity player and captain Magni Mata has led the team this season filling an important leadership role.
"With the last few games approaching, we have to step up our game and give them 120 percent as opposed to 100 percent because our opponents will also want to win and will fight for it as well," said Mata.
The team needs to come together as one and back each other up to win important games.
"To me, the standings don't play a major part in our playing style because we are a strong group of girls that care for one another and are determined to win no matter who we play, but Whitman would definitely be a team I would like to face during playoffs," Mata said.
The team lost to Whitman 0-2 in a nail-biter and close games like that prove that WJ is a team to beat.
"In order for us to continue to win, we must put an endless amount of effort during practices and games. A key thing to focus on is communication on the field because without guiding and trusting each other, things can frantic. Once that works out, it will be more easy to create plays that will allow us to score and win," Mata said.
The team is very adaptable and is up to face any challenge that stand in their way. The main goal of the team at this point in the season is working together to finish the season very strong. The seeding for the state tournament bracket is on October 22nd so the team needs to play their hearts out in hopes of climbing in the division and having a better shot at making it through playoffs.
Senior Tony Smith, is a huge fan of field hockey this season and has been to a majority of the games.
"I believe that the team can work together to win. They've had some really tough and close games, but their ability to stay together during the games shows their determination and drive to win games," Smith said.
The team has the motivation to win games this year considering that they've had seven games that were within 1-2 goals.
"I'm really nervous for the team when the bracket comes out because they're a very strong team, but their record doesn't show it, which might hurt them during playoffs," Smith said.
Four games might not seem like many games left but with the division standings so close the team needs to win the last few games to prove their competition in the division. The team is led by a really strong group of girls so maybe there will be spark to push into playoffs and possibly into states.
[playbuzz-item url="//www.playbuzz.com/thepitchonline10/field-hockey-trivia-quiz"]