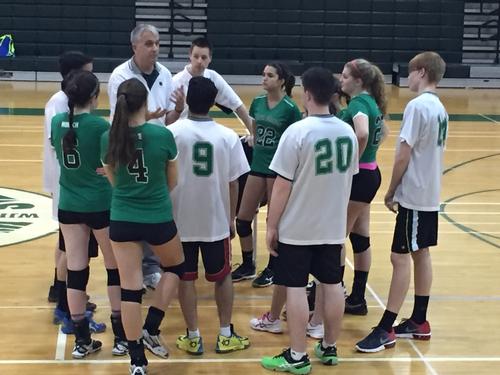 Every player throughout their high school sports career wants to go out with a bang, making their four years of hard work worthwhile. Though co-ed volleyball and boys volleyball have several seniors on each team who have put in the hard four year commitment, one stands out.  Senior Joseph Fischetti went from not knowing the game very well at all to being a meaningful co-ed varsity player who impacts his team in just about every game on the hardwood floor.
Originally a football player, Fischetti was looking for a spring sport to keep his competitive fire going after the fall season.
"Yeah I started a little late compared to a lot of people, but I was looking for a competitive sport and learned to play a new one," Fischetti said.
Although football and volleyball are very different sports, both still require an element of athleticism. He believes his athleticism helped him improve at the game quickly, but he still learned a lot too.
"My athletic ability was really a gift for me, as physically I was able to learn the game, but it was still challenging learning all the ins and outs of the game, but none the less I'm glad I put all this work in to a sport I enjoy very much," Fischetti said.
While on a personal level, Fischetti is happy that he has grown throughout these four years to become a very good volleyball player, he still is disappointed over the team's record and performance thus far this season. Like many on the team, Fischetti feels that they could have been much better, and are a few plays away from picking up and winning one of these games as seen by the score.
"It has been, to some extent, disappointing, as you want your senior year to be memorable as me and my teammate put in all this work throughout the off-season. Also, that many of the games are low scoring and really competitive that contributes a lot to the frustrations this year,"Fischetti said.
As Fischetti enters the halfway point of his last volleyball season, he can proudly look back on all of the effort he put into his high school career.