Crowd support fuels WJ basketball team heading into playoff push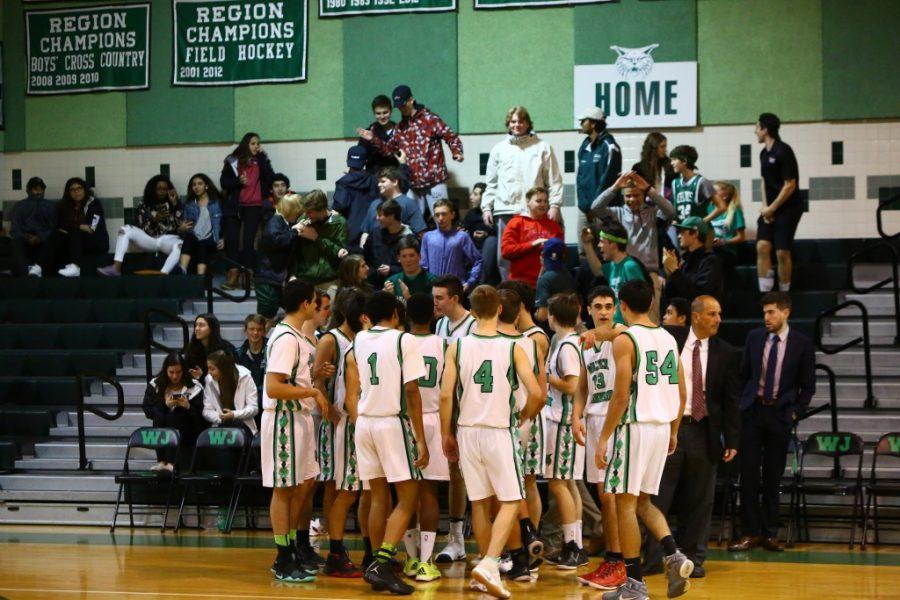 It was late in the fourth quarter. WJ had the ball. It found itself in the hands of senior Rohan Karim. He took the shot from long range. The ball floated through the air and swished through the net. The WJ fans erupted, as if it were a game winning shot. The only thing was, it wasn't. It was a more than 20-point blowout, and the Wildcats were cruising to a victory over Rockville High School.
"When I let it go, I knew it was good… as soon as it went in I just was so excited that I just kind of just celebrated too much," Karim said. "It was really cool like seeing all my friends jump up and down when I scored."
Senior forward Michael Joseph was so excited he ran halfway up the bleachers before he was able to calm himself, and even then he was still ecstatic. It wasn't just that moment that stuck out in Joseph's mind. Throughout the whole game, the fans had been very excited.
"Definitely, the fans that were there gave us a lot of energy," Joseph said.
It wasn't specific to this game either. Joseph believes the fans have played a vital role in the entire season.
"Sometimes we know we aren't doing that well, but if the crowd's still in it we usually get pumped up and get right back in it," Joseph said.
Senior guard Chris Carlyle agreed.
"Some kids on our team really like to have a big crowd at our games because they can have an impact on the game," he said. "When we go on runs of eight or ten we can really feel the crowd getting into it."
WJ has really enjoyed playing in front of their fans, and they want to continue playing in front of them when it counts most.
"We're really hoping for a home playoff game," Joseph said.
WJ hopes that the crowd support can help carry them to more wins this season, and far in the playoffs.