Bullis Boys Lacrosse Take National Championship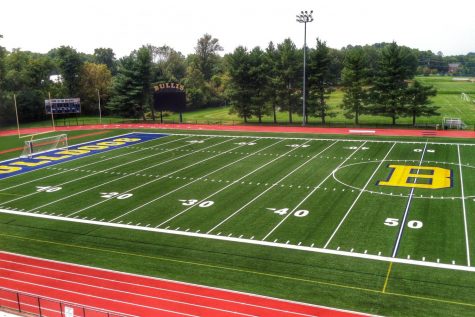 The Bullis boys' lacrosse team entered the national semifinals at Catholic University on Tuesday, May 28. After winning the private school IAC Champion title in the 2018 season, the team was determined to come out on top…again.
After dominating the first two rounds of the tournament, Bullis faced The Hill School in the semifinals. This Canadian private school had held the national title for the past two years, and were seemingly unbeatable. After an incredibly close game, the Bullis bulldogs had prevailed. Up next, the Bulldogs took on the second ranked team in the country, Salisbury School, in the finals. Salisbury entered the match with an undefeated record, compared to Bullis' two losses, and many Bulldog fans were feeling hopeful yet not certain.
The final game was seemingly back and forth, with Bullis holding their own and refusing to lower their intensity. This perseverance had led Bullis to an astonishing 8-4 lead by halftime. After the second half whistle sounded, Salisbury midfielders quickly stampeded the Bullis defense and notched two goals in the first five minutes of the second half. However, the reigning champions didn't back down and in fact battled it out throughout the half to take a 13-6 lead by the middle of the half.
Despite a late burst from Salisbury that saw two goals in the final minutes, they simply couldn't pull a lead against Bullis. The Bullis boys are the only American team to win the National championship in five years, as The Hill School of Canada had pulled the title from the 2014 season.
The state of Maryland, in general, develops some of the country's top lacrosse players. From the high school national championships to the several UMD NCAA titles, lacrosse players throughout the state should feel intense pride. With each new season and each new team, our wildcats are constantly improving. By the end of the regular seasons, the girls and boys lacrosse teams enter the county playoffs, reaching closer and closer to titles like Bullis'. They may not be IAC champions, but there's always a possibility that with hard work and determination, the WJ lacrosse teams will make their marks on the Maryland lacrosse legacy.