Jake's Take: NLDS Game 5 was a dumpster fire
Hang on for a minute...we're trying to find some more stories you might like.
To be clear: Yes, I'm a Nationals fan, but as a Nationals fan, I have an accurate opinion on what went wrong during Thursday's game 5 against the Chicago Cubs. This year, the Cubs were a talented team filled with all stars and respected players, but there was one player I lost some respect for after Game Three: Cubs first baseman Anthony Rizzo. Rizzo drove in the game winning run in the eighth in game three, and after his hit, he yelled "Respect me" to the Nationals dugout. In addition, after the game in a post game interview, he said "I think I'm one of the best players in the game," and "They should've walked me." A little arrogant, Rizzo. The Cubs even made a shirt directed at the Nationals. Ironically, the Cubs should give the Nationals more respect.
Don't forget, just last year, Cubs manager Joe Maddon's gameplan against the Nats was to walk Nationals outfielder Bryce Harper everytime he came up, and have first baseman Ryan Zimmerman beat them, which worked, and it could be a catalyst on why Harper had a bad season last year, but this year was different.
Harper and Zimmerman had come back seasons and have been the best one-two punch in the National League, and that's not even including star second baseman Daniel Murphy and third baseman Anthony Rendon. There was no way that Maddon was going to be able to walk Harper this time.
The real star was Nationals outfielder Michael A. Taylor in the division series, who hit a grand slam against Cubs closer Wade Davis to force a game four. In Game 5, it all looked right for the Nationals; Murphy and Taylor hit homers to make it 4-1 Nationals in the first inning.
But after the first inning, everything that could possibly go wrong, went wrong for the Nats.
First, let's talk about Nationals manager Dusty Baker's decision to bring in ace pitcher Max Scherzer in relief in the fifth, when the Nats had plenty of bullets in the bullpen. Why was this a bad decision? Scherzer was coming off two days rest, and with pitchers like Joe Blanton, Brandon Kintzler, Sammy Solis and Tanner Roark resting in the bullpen; it was a confusing decision to bring out the Scherzer card early in the game, and it was possibly the worst inning in Nationals history.
Cubs second baseman Javier Baez swung and missed at a wild pitch that went to the backstop. In which Nats catcher Matt Wieters, for some reason, threw to first when it looked like Baez would've been safe anyway. The throw was wild which advanced Baez to second. Wieters alleged Baez tipped it, but according to replay, it didn't happen.
Next was outfielder Jayson Werth and Taylor trying to make amazing catches in the outfield when they should've taken it on a hop to keep it to a single. Runs scored on both plays. I understand why they dove for the liners. Adrenaline is running for everyone, but you can play aggressive, while playing smart as well.
The final run for the Cubs came off of a ground ball by Cubs star third baseman Kris Bryant, who hit a tapper to third, and Rendon tried to start a 5-4-3 double play, but Bryant was safe at third causing a run to score.
The new baserunning rule is that you have to slide in the baseline to second base. You can't slide out of the baseline to breakup a double play. In the replay, you can see Jay go right into Murphy's legs, out of the baseline, but the umpires ruled him safe.
The replay came back to bite the Nats again in the eighth, when Nationals backup catcher Jose Lobaton was picked off by Cubs catcher Wilson Contreras. The problem was public enemy number one, Rizzo, who kept the tag on Lobaton when Lobaton's leg came slightly off the bag when sliding feet first.
When showing the replay, even the announcers, who were allegedly against the Nats this entire series, said that there was no evidence of Lobaton coming off the bag, but the umpires said otherwise, calling Lobaton out at first, killing an eighth inning rally.
The umpire's strike zone was wild all game, for both teams. For the Nationals, Werth, Taylor and Zimmerman were just some of the victims called out on strikes that were out of the strike zone. Taylor, who's usually cool, calm, and collected vocalized his opinion to the umpire regarding the strike zone.
In the ninth, Davis got the seven out save striking out Harper to win the game 9-8 to move on to face the Dodgers in the NLCS.
This game was an absolute trainwreck and was the most unlucky game to ever happen in Nationals history, and it was unfortunate that it had to happen in the playoffs. It looked like the Nationals were ready to get rid of the "Can't win a playoff series" stigma they've had since 2012 when they crashed into a wall and gave up a two run lead in the ninth.
Baker made terrible decisions, and the Nationals looked like whiners during the fifth. Wieters should've shook it off and kept playing. Werth and Taylor shouldn't have tried to be the heroes and taken the bloopers on a hop.
The offense was dead for most of the series and they shouldn't have had to have their backs up against the wall to wake up and smell the roses. Now they're going home, and who knows what will happen this offseason.

About the Writer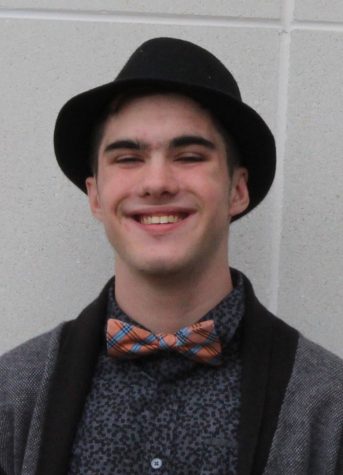 Jake Brown, Sports Editor
This is Jake's third year on The Pitch, and second year as a sports editor. He is also on WJ's wrestling team in his 4th year. Jake also does the sports announcements on WJ's morning announcements every (Fedora) Friday. Jake is also excited to be apart of WJ's Madrigal choir. Jake plans to be a...