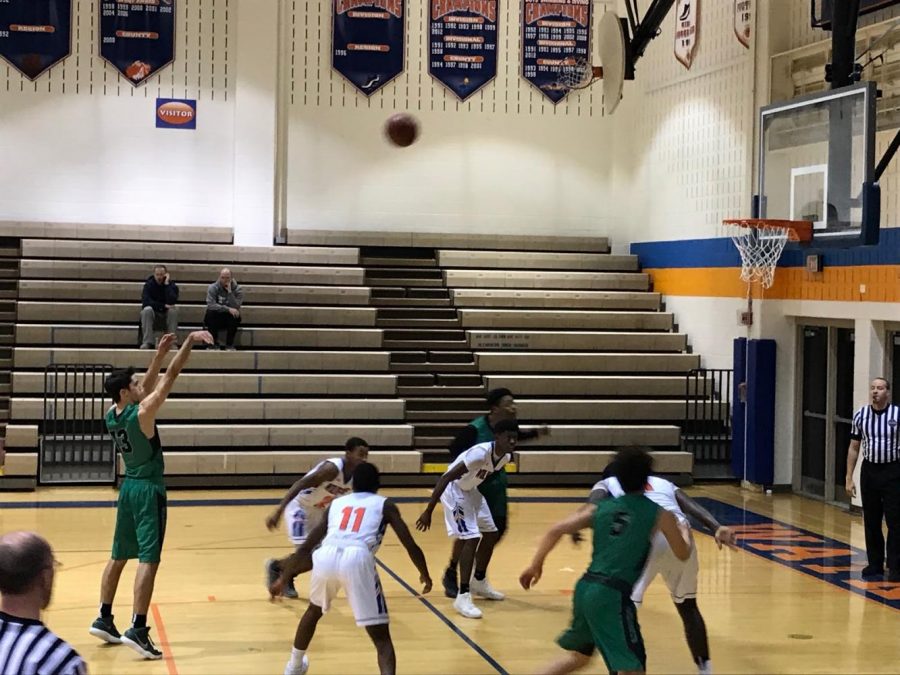 Q: How did you get into basketball?

A: I started playing basketball when I was six on a rec team. I quickly learned that I loved the sport so I started playing with better and better competition.
Q: What is favorite part of playing basketball?

A: My favorite part of basketball is dunking for sure.
Q: What is your role this season as a captain?
A: My role as captain is to be a vocal leader as well as leading by example. I try my best to motivate the team and put in 100% effort every single day on the court.
Q: How did you prepare for the game against Damascus High School when you scored 21 points?
A: We watched film on Damascus to learn their tendencies and figure out how to beat them. In practice we simulated the types of defenses and offenses that they played so that we were prepared for everything that they did.
Q: Were you on JV basketball before making the varsity team? If yes, what was the transition like from JV to varsity?
A: I played JV my freshman and sophomore year before playing varsity as an upper classmen. The transition at first was difficult because your opponents are bigger, faster, stronger than on JV, but it didn't take long for me to get acclimated.
Q: What position do you play? What do you like about your position?
A: I can play either [shooting guard, small forward or power forward]. I'm a versatile player who can play many positions. In today's game I'm called a wing. I like my position because I can do a little bit of everything and contribute to the team in many different ways.
Q: What are your personal goals for the season?
A: Individually, I want to do whatever it takes to get wins, whether that means playing good defense, scoring or rebounding.
Q: What do you like to do outside of school and basketball?
A: Outside of basketball I hangout with friends, go out and play poker.