Girls lacrosse team all-county players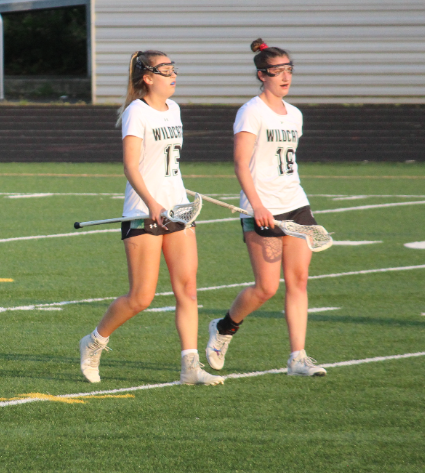 The Girls Lax team had an amazing season this year, winning regionals before losing in the state semifinal game. To add to their success, 6 players made the all-county team. 3 players: midfielder Olivia McCloskey, defenseman Anna Zucconi, and attacker Ginger Fishberg, made the all-county 1st team. And 3 other players: midfielder Ellie Hilton, midfielder Natalya Krouse, and goalie Brett Wall, made the all-county 2nd team.
Olivia McCloskey
McCloskey was a captain this year, and she played in her final season as a senior. She will not stop playing lacrosse, however, since she committed to St. Joseph's University to play there. Both with her play on the field and with her leadership off the field, McCloskey earned the respect of her teammates and her coaches.
"She's very strong, she's very fast, she can play all over the field. But she has this year she had some amazing goals that we were like 'oh my gosh, how'd she do that?' She was a great leader for us this year, anytime we had a question or if there was a conflict in the schedule she was the first one to say 'alright let's practice at 5 in the morning' or 'everybody record yourself and send it to coach'. She was always willing to do whatever it took to get us where we got," coach Tina Fitzpatrick said.
Sophomore attacker Ginger Fishberg also views McCloskey as a great captain, along with someone to look up to.
"I just think Olivia has this way of when I'm making a mistake or when I'm not doing something right, she is able to correct it in the best way. She gives the best advice, and best information without it coming off as mean. She's just super helpful and has this way of presenting her as a captain that I really look up to," Fishberg said.
McCloskey was also a big influence off the field as a captain.
"Honestly I would consider her like a mother figure to me. She's always there for you if you need it, she's always somebody that's going to do something for you if you need to. And I just consider her like a sister," Junior defenseman Anna Zucconi said.
Anna Zucconi
Zucconi has been playing lacrosse for 11 years, and she has been on the WJ team all 3 years of high school so far. Next year in her senior year, she will be a captain. She has committed to play for Kent State university after high school.
Zucconi has become a really solid defender, a hard position that might not get enough credit.
"As a defender, they don't always get the praise they deserve, and Anna is the best defender in the county. It's hard to statistically show what she does, but she's always marking the best attackers and the most skilled players on the other team. She can shut anybody down, and we can put her on anybody and she will be able to shut them down. She comes up with some awesome turnovers, and she can also bring the ball up the field which is really helpful in competitive games," Fitzpatrick said.
Midfielder Natalya Krouse has been playing lacrosse with Zucconi from the very beginning. Together, they have really good chemistry on and off the field.
"I've been playing with Anna since I started playing lacrosse, and she's been my best friend for years. And we just know each other so well on and off the field, and so we always know what each other are thinking. We really connect and we have good chemistry, and she's all around a great player and a great person," Krouse said.
Zucconi says that the best thing about the lacrosse team is the community of the team.
"It's not really a team, it's a family. Just that everyone likes each other, everyone talks to each other, the environment of the team is just great," Zucconi said.
Ginger Fishberg
Fishberg is both the only attacker and the only underclassmen from WJ to make all-county. She started playing lacrosse when she was 7 years old. Other than Lacrosse, she also ran track in the winter and played soccer in the fall on WJ.
Fishberg says that the best thing about being on the lax team was the people and not just the sport itself.
"I love lacrosse but it was the team that made it so much enjoyable and fun like it's what I looked forward to every day, and that's thanks to the girls on the team," Fishberg said.
And just as Fishberg likes socializing with her teammates, her teammates like talking with her as well.
"I love Ginger, she's such a character and I love her personality. I feel like we connect really well too, I feel like we're very similar on the field and off the field. And she's an all around good player too," Krouse said.
On top of her personality, she is a great goal scorer.
"She is very skilled, she is not afraid to go to goal, she has some awesome dodges. She is also able to dish the ball out, and she leads our team in assists. So a lot of what she does is make space and make plays for other people to shine, which is something that not a lot of people are good at. And she had some great goals and great assists in our most competitive games," Fitzpatrick said.
Ellie Hilton
Like McCloskey, Hilton just finished playing her final year of cat lax. She was also a captain and was a vocal leader in the huddle and at practices.
"Ellie was a captain this year, and she wasn't afraid to speak her mind and let other people know what we need from them, which is very nice for me as a coach. There is no assistant for varsity, so I really lean on my captains a lot. She takes the draw for us, which is a huge part of the game, and she can bring the ball up the field," Fitzpatrick said.
She also is very nice, which doesn't go unnoticed by her teammates.
"She's probably one of the nicest people I've ever met, and she always has something nice about you to say. And she's never bringing people down, she's always bringing people up," Krouse said.
Zucconi also agrees that Hilton always lifts people's spirits.
"I feel like Ellie really brings this fun aspect to the team, and if you're having a bad day then you'll laugh after hanging out with her. She can always bring you up and is always just there for you," Zucconi said.
Natalya Krouse
Krouse just finished her junior year of lacrosse, and all 3 years were on varsity. She got voted as a captain for next year, and she has committed to play for the University of Connecticut after high school.
She really loves meeting new people on the team and knowing many people from around the school.
"(I like) meeting different people in different grades. I have a variety of friends, and I know my sister had a good time this year in her freshman year, just like I had in my freshman year. I really like getting to know people from all around the school," Krouse said.
Zucconi, a longtime friend and lacrosse teammate of Krouse's, feels they have a really good relationship and friendship together, both on and off the field.
"I've been playing lacrosse with Natalya for 11 years, and our relationship just continues to grow. She's just someone that I can always go to and always talk to if I need anything, if I'm feeling down at a practice or a game or something she can really just bring me up and I feel like I can do the same for her," Zucconi said.
For Fishberg, her play is really well-rounded, and she's really good on both ends of the field.
"Her play is so underrated, I think she is the best two-way player on our team. And that her defense and offense together makes her the best two way middy, and I don't think she gets enough credit because she doesn't have the most goals, but she sets other girls up, she creates space. So she does the things that don't get all the shine but is needed on the team," Fishberg said.
Brett Wall
Known amongst her teammates as "Brett the brick wall", she provided some solid goalie play as one of the best goalies in the county. Wall had a 65% save percentage, which is way above any other goalies in the county, and she was only letting in an average of 4.9 goals per game.
As the Goalie, she communicates well with her defenders, as communication is key on the defensive end.
"She has a pretty strong defense, but she also made some huge stops in our biggest games. She's a leader as well, like she's not a captain but she's not afraid to tell her defenders what she needs from them. And give constructive feedback, and she does it in a way that is very helpful to other people," Fitzpatrick said.
Zucconi says that she and Wall have a close connection as goalie and defender.
"I feel like Brett and I have one of the closest relationships on the defensive end because we understand each other and we have conversations during the game and during practice. Her and I can just banter back and forth, and we're just really good friends," Zucconi said.
She can also help the other players on the field fix mistakes at times.
"Brett is so funny and she leads our defense. It's like if something really needs to be fixed Brett will let you know. Her brutal honesty is very helpful," Fishberg said.
Looking forward…
After a successful season in which the team won the regional championship, the girls' lax team is looking to build on their success for next season. With some seniors leaving, the roster will have big shoes to fill.
Your donation will support the student journalists of Walter Johnson High School. Your contribution will allow us to purchase equipment and cover our annual website hosting costs.