A Q&A with Wrestling's Two Biggest Stars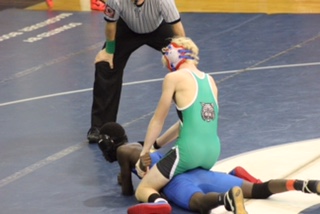 Get ready to rumble! The wrestling team is back and better than ever! With both up-and-coming members and old-timers, the team has significantly more members than last year, and all of them are stepping up to the plate. Senior JD Fitzpatrick and junior Kemper Stearns made it all the way to states last year, and they're not slacking off this year. In fact, both guys have set new goals for themselves, and they strive everyday to reach them. Fitzpatrick and Stearns recently shared their big plans for the season.
Question: What are your goals for the season?
Fitzpatrick: My goals are for the team to do the best they can this year. I want to make sure every member of the team does the best he can and works their hardest.
Stearns: My goals are to win counties, regionals, and place at States.
Question: Is your coach on board?
Fitzpatrick: The coaches this year have been awesome and on board to help us accomplish our goals. The coaches want us all to do the best we can and work our hardest.
Stearns: My coach is definitely on board, he always supports the whole team and is always pushing us.
Question: How does the team function as a whole?
Fitzpatrick: The team has been working well together this year. We had probably the most amount of guys we've ever had working in the offseason and it's paying off.
Stearns: The team could function a little better, it's the beginning of the season so people still need to settle in, but we'll get there.
Question: How will the team do this season?
Fitzpatrick: I hope the team will win as many matches as possible. I think we have a good number of guys that have put in the work and will be able to make it to states and get on the podium.
Stearns: The team will do pretty well this year, we have a lot of guys stepping up and working every day to get better.
Question: How do you think Stearns will perform compared to last season?
Fitzpatrick: I think Kemper will have a great season. He's worked hard in the offseason and his experience will help him accomplish his goals.
Question: How do you think Fitzpatrick will perform compared to last season?
Stearns: I think JD will win states. He's the most dedicated wrestler I've ever seen. He's working out before practice and staying after to run. It's his senior year, so he really wants to win states too.
Fitzpatrick and Stearns are very optimistic about the season. They definitely see how hard the team is working and have high hopes for the season. Although Fitzpatrick and Stearns are already expected to make it to states, be sure to keep an eye out for the other guys on the team. Everyone is working hard this season, so don't be surprised by the talent other members of the team bring to the table. This winter, wrestling is definitely the sport to watch!