Nationals' and Orioles' Mangers Win Highest Award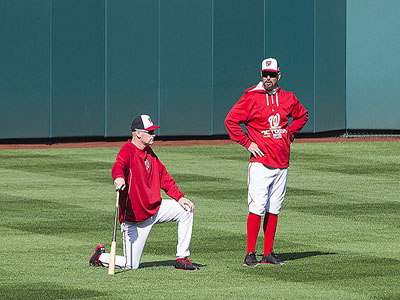 Buck Showalter.  Matt Williams.  One manages an American League (AL) club, and the other manages a National League (NL) club.  Both have just won the highest award that a manager can receive: Manager of the Year.  This award is given to the best manager in both leagues each year.  Showalter won over Anaheim Angels manager Mike Scioscia and Kansas City Royals manager Ned Yost.  Williams edged out Clint Hurdle of the Pittsburgh Pirates and San Francisco Giants manager Bruce Bochy.  Both managers had to work around injuries to key players. 
The Orioles had to overcome injuries to key players Manny Machado, Matt Wieters, as well as a suspension for slugger Chris Davis.  Showalter also had to deal with a struggling bullpen. In spite of these challenges, Showalter successfully guided the team to a division title and led them to the American League championship series.
Williams also had to deal with the injury bug, as five of his eight starting players spent some time on the disabled list (DL).  Most notably, left fielder Bryce Harper, first baseman Ryan Zimmerman, and catcher Wilson Ramos. In addition, The Nats witnessed  poor performance from Rafael Soriano, their contracted closer.  However, Williams and his staff finished with the best record in the NL and made it  to the NL Divisional Series.
In the end, many people overlook the award, but managing a MLB team is no easy task and these managers and their assistants deserve more credit than they have gotten because of how they have guided the team through injuries, minor league call-ups, trades,  and other roster and game moves.