Club Profile: Ultimate Frisbee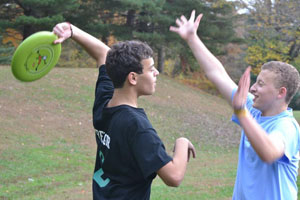 Grace Leslau, Online Feature Co-Editor & Print Assistant Feature Co-Editor
November 15, 2012
Every Friday after school, members of the  Ultimate Frisbee club walk to Stratton Park, off of Democracy Boulevard in Bethesda, where the club holds its practices. Ultimate Frisbee is a competitive form of a conventionally recreational sport, played with two opposing teams who score points by passing the Frisbee among members to an end zone or goal line. The club is open to players with or without experience.
"I like that people of all skill levels can play together," said sophomore club member Eli Berger.
The Ultimate Frisbee club  is primarily recreational but also has a competitive element. Beyond the regular Friday practices, members selected by the club officers also participate in Ultimate Frisbee competitions against other schools. These competitions are organized by the club. Thus far, the team has participated in one match.
"This year we have been focusing on developing the club within the school but we are working on lining up games against other schools like Wootton and Quince Orchard in the near future," said senior president Aaron Broun.
The club provides students with an opportunity to enjoy sports without the pressure or intensity of some athletic teams. Practices consist of two or three matches, sometimes divided into separate games based on the experience of the players.
"It's a very laid back atmosphere during the games and there really isn't any pressure to perform perfectly," said senior Derek Corbin.
In the past few years, Ultimate Frisbee has expanded greatly in terms of membership and now boasts more than 80 members, who look forward to a fun Friday afternoon of Frisbee.
"Ultimate Frisbee is a great club for anyone looking for competition or just to have fun," said Broun. "After four years in the club, I can't think of spending my Friday afternoons any other way."