"I Know I Can" Write a Book: Motivation from Author Michael Flanigan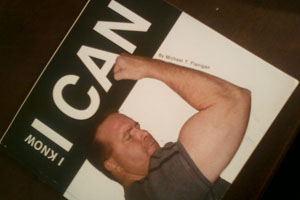 Grace Leslau, Online Assistant Feature Co-Editor & Print Assistant Feature Co-Editor
November 30, 2012
WJ paraeducator Michael Flanigan wrote a book designed to inspire people to mantain a positive attitude despite hardships. His book, titled "I Know I Can," published in 2009, is a collection of inspirational quotes, anecdotes and words of advice that teach the reader to break down mental and physical barriers standing in the way of success.
Flanigan broke his back in 2004, and found that returning from his injury required a bright outlook and perseverence. Flanigan decided to write a book so he could share his own success at persisting despite this hardship. The book was primarily directed toward athletes but applies to any individual facing an obstacle.
"I started concentrating on overcoming the negative with the positive," he said. "A lot of people, when faced with the negative, don't think they can overcome it."
Flanigan also suffers from epilepsy, and was able to apply an approach of optimism to his condition. He works with WJ students to inspire them to overcome the many challenges they face.
"I understand where these kids are coming from," Flanigan said.
In addition, Flanigan works as a personal trainer. His book reaches out to anyone attempting to overcome adversity, but most of the quotes he selected were from renown athletes  because he felt that these would reach out to a broader audience since most people can relate to sports.
"I want [readers] to know not to settle for mediocrity, [but] to settle for the best [they] can do," he said.
The central message is learning to appreciate the blessings and block out the curses. However, finding quotations from well-known individuals that fit into this encompassing theme proved difficult. Flanigan learned that although he himself had benefited from lessons learned about success and overcoming obstacles, he needed to spread this message to others so that they too can move past difficulties in their lives.
"I need to focus on trying to get the message out to more people, not just myself," he said.
His work at WJ is one of the ways he can spread this message. He teaches his students, as well as family members, that they can achieve anything they set their minds to.
Flanigan plans to write additional books in the future that embody the idea of triumph in the face of adversity. He wants to write a book in which the main character resolves a personal dilemna, and through his toils, teaches those around him to turn unfortunate predicaments into favorable situations by holding high expectations of themselves as well as others.