Martin Named Gazette Coach of the Year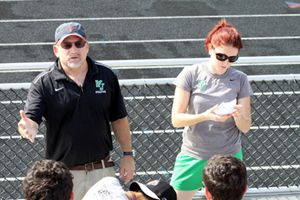 Vince Lombardi, Mike Krzyzewski, Phil Jackson, Tony La Russa: each of these individuals are legendary coaches in their respective sports. Head cross country coach Tom Martin is trying to throw his name into the same category as these famed coaches.
This fall Martin was named The Gazette's cross country coach of the year, the second time he's earned the award in the last four years. Since taking over the cross country program five years ago from Greg Dunston, Martin has headed four state championship teams and coached numerous All-Gazette and All-Met runners. Martin was named All-Met coach of the year in 2009 and 2011.
"I see it more as an award for the team; they are the ones who do the hard work and believe in the training and the goal," said Martin.
However, Martin couldn't have won any of the awards without successful runners. Martin has coached two individual state champions since he took over the head coaching job, and trained a number of other runners that have gone on to compete at the collegiate level. Martin attributes the success of his teams to his training methods, in addition to the hard work and dedication of his runners.
"I have a few principles that I apply to our training, however over time, I have come to realize that you have to know what your runners need and when they need it," said Martin. "If you take just what is written and apply it generally without recognizing what the individual needs of your team is with relation to the specific season, then you will only experience moderate improvement over the nine weeks…I try to adapt the training to be able to maximize the team in general over the season we are in."
Although cross country failed to complete a five-peat at the 4A state championship meet this season, the team returns an abundance of quality runners, including grade Michael Spak, grade Matthew Morris and grade Dan Kosogof, something Martin always has done.
"We have been fortunate. For the last five years our seniors have been instrumental in encouraging our younger runners," said Martin. "This gets freshmen excited and makes them want to be runners."
Despite this year's loss at states, Martin has the team poised to be successful for years to come.