Club Profile: The Traditional Asian Dance Association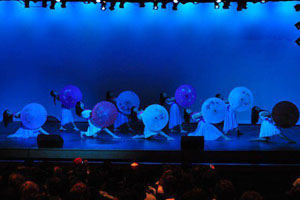 Grace Leslau, Online Feature Co-Editor & Print Assistant Feature Co-Editor
January 3, 2013
The Traditional Asian Dance Association (TADA) showcases cultural heritage at WJ through schoolwide performances of Asian dances. Currently, the club's main performance is scheduled for International Night at WJ, taking place after school hours, rather than the traditional third period assembly used in years past. TADA members are working on dances to perform at this event.
"We also plan on carrying on the tradition of performing at a bunch of other places like we did last year," said senior vice president Angel Yee.
In addition to school functions, TADA performs at other venues, such as local libraries, Montgomery County dance shows, Lakeforest Mall's Chinese New Year celebration and the Fiesta Asia's street fair outside of the Capitol.
"We describe ourselves as a big family because we all have to teach each other [the routines]," said senior president Jennifer Chen.
As the members are solely responsible for the creation, instruction and exhibition of the dances, the club is more independent than many others. Chen choreographs the dance routines using the experience she has gleaned from dancing with TADA since eighth grade when she was invited to perform with them, and then teaches them to the club members. However, teaching a dance to a large group of people with varying levels of dance experience can be challenging. While for some members, this will be their fourth year dancing with TADA, for others this will be their first.
"Everyone learns at a different pace, but we have to make sure everyone is ready to perform," said Chen.
Some of the club's biggest challenges include obtaining funding for props and costumes, necessary components of their dances that are often difficult to find. Fans, for example, are expensive and must correspond to the choreography of the dance, since the dances are choreographed to incoporate a particular material and length of fan. Members of the club often contribute money, in addition to the funds they receive from fundraising events.
"If the material of the fans that we use doesn't have the right texture, [the dance] doesn't come out the way we envision for it to come out," said Yee.
Additionally, the club has grown significantly in the past years, and the limited practice space—the ESOL hallway—is cramped. However, TADA welcomes interested students to join them every Thursday after school.  
This year the club is working on two new dances for International Night.  One includes a longer type of fan, and the other is a martial arts themed dance. Despite their work dancing and performing, the club is also a social experience for many,
"Everyone there, even if they don't have dance experience, tries to enjoy themselves," said Chen.