Club Profile: Live at WJ
Hang on for a minute...we're trying to find some more stories you might like.
In 2012, senior Helena Klassen established an open mic show called "Feedback" as her senior project. Senior Andrei Bodnya attended the show and wanted to carry the tradition on, so he established Live at WJ, an open mic show in the form of a club.
"I like that the club lets anyone express their talent freely in a very friendly environment," said club president Bodnya.
At least once a month, the club officers organize a talent show that typically takes place after school. The shows are open to any student at WJ, but usually consists of performances by club members. The audience is usually comprised of students' friends and family. Scheduling the show involves determining the duration of the various performances, predicting how long the show will last and in which order to place the performances. They also make a list of sets that will be needed, depending on the performances.
"Our biggest challenge is getting an audience and good venues," said Bodnya.
Additionally, club sponsor Jeremy Butler was recently on leave because of the birth his child, so the club officers had to find a temporary sponsor in order for the show to take place. Fortunately, music teacher Meghan Davis stepped in and allowed the club to use her room.
So far this year, Live at WJ has organized two shows, and they plan to do many more.
"Currently I am planning a Pennies for Patients show for this month, so that our club can also contribute to the cause of fighting against leukemia," said Bodnya.
In between working on coordinating shows, Live at WJ is seeking more membership and support. They meet weekly on Thursdays at lunch to plan their performances.
"We hope that we can get as many people as we can to participate on stage as well as in the audience," said Bodnya.

About the Writer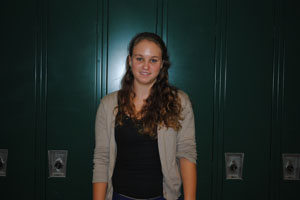 Grace Leslau, Staff Writer
This will be senior Grace Leslau's first year on The Pitch as a staff writer.  She is excited to be on the staff and looks forward to an amazing year. Grace was born in Jerusalem and moved to the Washington area when she was seven.  Outside of school Grace is a competitive gymnast.  She also enjoys reading, baking, traveling and spending time with friends and family. Grace spent her summer as a counselor at a camp and loves playing with kids.