Club Profile: It's Academic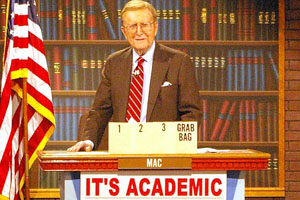 Grace Leslau, Online Feature Co-editor & Print Assistant Feature Editor
March 22, 2013
 It's Academic is a club at WJ that participates in game shows. Club members meet three times a week to practice answering questions on a wide variety of topics. In preparation for competitions, club members must become familiar with material and be able to recall information quickly. The team is coached by Stuart Safford and Jacqueline Robbins.
"The most attractive quality of [It's Academic], in my opinion, is that it rewards a deep knowledge level," said junior club president Sameen Belal.
The club competes in several types of competitions. One type of competition is the Quizbowl. Questions in the Quizbowl are formatted in a pyramid structure; the more obscure clues are first mentioned and the more obvious clues are mentioned toward the end of the questions.  This format of question exposes student to material they would not otherwise learn. During the Quizbiowl, WJ competes against other high schools in the county.
Beyond Quizbowl, the club also appears on two television broadcasted game shows. It's Academic is broadcasted on NBC and is based entirely on speed. The more conspicuous clues are divulged initially and the first person who buzzes then answers the question and usually gets the point. Additionally, the club appears on Quizmaster Challenge, a similar game show aired on MCPS TV. The Quizmaster Challenge consists of competitions between high schools in Montgomery County and is also can be viewed online. The most challenging competitions for the club members include the NAQT High School National Championship Tournament, which will take place in May in Atlanta and the PACE National Scholastic Championship in June at College Park.
It's Academic club members also develop a broader knowledge base and additional skill in answering questions.
"Quizbowl has played an immense part in my life, not only recreationally but academically as well," said Belal.
The WJ It's Academic team faces a challenging season with teams like Blair and Richard Montgomery to contend with. WJ's team has had wide ranged success in facing other teams in the DC area.
Belal joined It's Academic in his sophomore year and has learned a lot since.
"I always fostered a love for game shows like Jeopardy and It's Academic and I wanted to see if I was up for the job myself," said Belal.