Club Profile: Feminism Club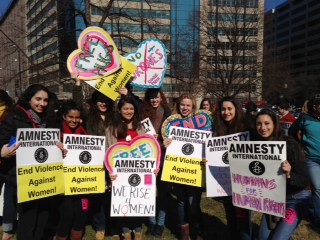 Advertisement
Hang on for a minute...we're trying to find some more stories you might like.
Among the unusual Brony (My Little Pony for guys) club and the well-known Model UN club, one of WJ's newest student organizations is the Feminism Club.
Senior Sarah Pratt founded the club last year after receiving support from friends, and hopes to have another successful year with the club.
"I think it was a good idea to share [feminism] in school, and so far it's turned out really well," she said.
The group meets once a week to converse about recent news in feminism.They usually meet on Wednesdays during lunch in sponsor Joanne Reynolds' room, G22.
"I always try to make meetings more of a discussion. Instead of me telling people 'Hey! This is what's up in feminism today,' I usually bring up an issue, like prostitution or something like that, and I say 'What do you guys think of this?'" said Pratt.  "We all share our opinions. And we don't necessarily have to agree with each other. Feminism isn't a doctrine, it's a discussion."
Pratt hopes to have more people involved in the club this year, after having a successful first year. Although there are only girls in the club at the moment, Pratt would like to expand it to all genders. One of the highlights of last year for Pratt was going to a rally on Valentine's day for One Billion Rising, a campaign to end domestic abuse against women.
Pratt also says she would like to be involved in feminism club in college as well.
"Colleges tend to be quite liberal whereas high schoolers…they're just not exposed to a whole wide range of things," she said. "I would definitely join one."
Unfortunately, Pratt said the club also receives negative responses from students when they hear about feminism. When the club was mentioned on the announcements, two boys in her class laughed at it, and made jokes.
"They don't even know what they're talking about! They don't know what feminism is," she said. "If people would just show up to one meeting, they'd see that it's much different from what they think it is."