Club Profile: Juntos Brillamos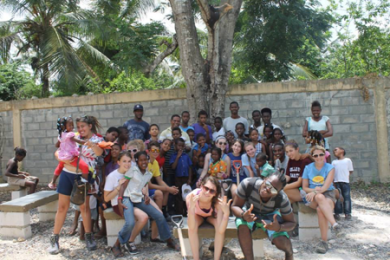 Advertisement
Hang on for a minute...we're trying to find some more stories you might like.
*This article has been corrected.
Juntos Brillamos is one of the latest clubs to reach out and promote education in the Dominican Republic, more specifically, the Bateyes areas, company towns where sugar workers live. Leader and senior Liana Berlin-Fischler is currently serving her last year in the club.
"Last year we ran many fundraisers in order to buy water coolers for some of the schools," said Berlin-Fischler. "One thing led to another and I realized that the thing that would help the most would be to actually provide manual labor opportunities for the students to practice their English, as that is often their ticket to getting a job at a local resort or out of the poverty-stricken Bateyes."
After Berlin-Fischler visited the Dominican Republic last summer with her family, she was inspired to help the Dominican children after seeing the conditions in which they lived in. She then organized for 10 students from the club to travel to the Dominican Republic during the summer of 2013. Together, the students built a playground at a school there, and a shaded sitting area outside in order to shelter the students from the harmful sun.
Berlin-Fischler was shocked to see how many people in the Dominican Republic were forced to live in poverty.
"It was crazy to see how people living in dark, tin homes without running water could still live such happy lives," she said. "When my group was touring a school in one of the communities we visited, the community leader told us that despite their great need of clothes, food and basically everything, what the children needed the most was a better education."

Although she is graduating this year, she still has many plans for the club this year.
"This year we'll be focusing on raising funds to help pay for documents, such as birth certificates, so the community members can begin finding jobs outside of the sugarcane fields."