Club Profile: Read, Grow, Live Club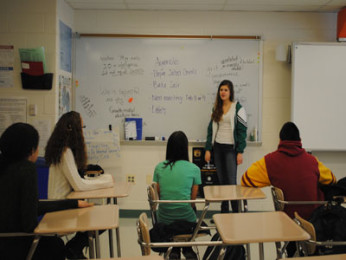 Advertisement
Hang on for a minute...we're trying to find some more stories you might like.
With the new semester beginning, students may want to take opportunities to get involved in different activities, such as the Read, Grow, Live Club.
The Read, Grow, Live Club works on education-related projects that help to eliminate illiteracy. The club is currently teamed up with First Book Montgomery County, an organization that provides books for underprivileged children in the U.S. and Canada.
Club president and senior Isabel Moreno founded t
he club in November 2012 along with some students in her Latin American Studies class.
"My Latin American [Studies] teacher, Debra Delavan, told our class about a group of high school students in Villa El Salvador, Peru who had restored an abandoned building to set up a daycare for poverty-stricken children in their area.  When she told us about these kids, I knew that there was something we could do to help them improve their daycare," said Moreno.
The club meets every Tuesday at lunch in room 132. At club meetings, students usually plan fundraisers and plan ways to get their message out. The club also recently planned a fundraiser at Ledo's Pizza at Westfield Montgomery shopping center.
Unfortunately, it was canceled due to the snow day and dangerous road conditions on Jan. 22 and has been rescheduled for March 5.  The club is also selling Papa John's gift cards for $15 a card until Feb. 7.
"My favorite part of the club is feeling like I've accomplished something that will make the world better in some way," said sophomore Leila Siegel, who decided to join because the club's goal of helping to end illiteracy interested her.
Moreno says that she has high hopes for the club in the future.
"I love working with such a diverse group of motivated people with the common goal of helping the underprivileged," she said. "The best feeling is researching a goal together and seeing how we have impacted others."