Is Black Friday Shopping Interfering With Thanksgiving Celebrations?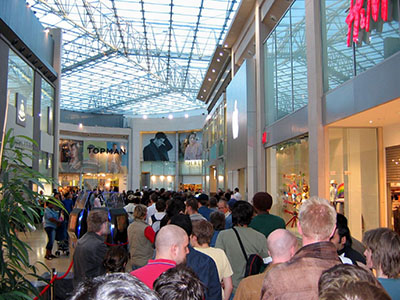 Black Friday, one of America's biggest shopping days of year, is approaching fast and some people think that the shopping is starting to interfere with the Thanksgiving celebration.
Black Friday attracts thousands of crazy shoppers looking for amazing deals every year. Livescience.com reported that Americans spend close to 45 billion dollars every year during Black Friday. There is no doubt that Americans have become raving consumerists over the years, wanting the best of everything, from clothes to electronics, but is it getting to be too crazy? Shoppers are literally stampeding over other shoppers and using pepper spray on one another– some of these shoppers even end up severely injured or dead in the process of trying to get the new Xbox that is 75 percent off for the first 100 shoppers. According to blackfridaydeathcount.com, in 2013, seven people died, and 90 people were injured at many stores across the nation.
"I think Black Friday does affect the celebrations [of Thanksgiving] because many stores are starting to open on Thursday instead of Friday," said sophomore Montana Gowell. "People will start to leave earlier and earlier to get in line at the stores they want to shop at, and also that means the employees at the stores have to get there extremely early so they might not be able to celebrate with their families."
Freshman Michelle Nashed also said she believes many family celebrations are impacted by the enormous consumerist holiday Black Friday has become.
"Thanksgiving is really about being thankful for what you have, and getting to spend time with family and just having a good time," Nashed said.  "But when people are only thinking about shopping and leaving early to go to stores and not really caring about Thanksgiving at all, it's kind of sad. It shows how materialistic Americans have become over the years."
Tim Manik, a sophomore at Winston Churchill High School and an avid Black Friday shopper, eagerly awaits the deals every year, but does not think it interferes with his celebrations.
"Not all stores open on Thursday, so really nothing is being ruined. If people just go on Friday they can still celebrate with their families and then go shopping," Manik said.
Manik loves the deals that many stores have, but also is not a crazy shopper who waits out in a tent.
"There are people who set up tents and wait outside in the cold for hours. I would never do that. I love getting good deals on clothes and other stuff I have to buy, but I am not that dedicated," Manik said.
There is no doubt that Thanksgiving tradition has been ruined for some families over materialistic urges, but will all families be affected in coming years? Will the Black Friday madness ever die down or eventually end? No one can be sure, but judging recent trends over the years, probably not.