Game night proves to be exciting new event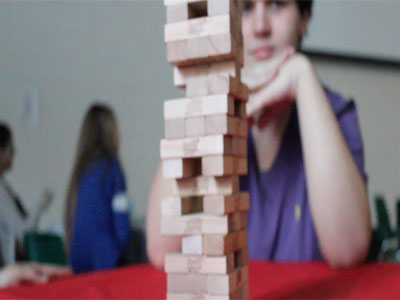 The beginning of March is upon us, which means the end of February and also the end of Pennies for Patients fundraising. This year, there were many events, some new and some old, that were organized to help gather money for the Leukemia & Lymphoma Society. The lineup included classics such as Family Feud and Glo, along with new events like Game Night and WJ Thrift.
Game Night, a new event, was set to be a promising night full of games and prizes. Unfortunately, due to the inclement weather in the past few weeks, the event was rescheduled twice- once from the Feb. 16 to Feb. 19, and a second time from the Feb. 19 to Feb. 24. The theme of the night  was "A Night In Vegas," and with the band and decorations, it made students feel like they were in a casino in Vegas instead of the WJ commons. The event offered many popular board and card games, such as Twister, Clue and Jenga. For winning games, students were awarded prizes such as gift cards to Chipotle and Chick-fil-a. Something different about this particular event was that admission to get in was $8 or $4 and a gently used board game, which went to children at Johns Hopkins Hospital.
"It's one of the smaller events," said senior leadership student Evan Boone-Lewis prior to the event.  "We're not expecting as much people as [we are at the] student vs. staff basketball game or other events. We just want it to be a nice, chill intimate night where you and your friends can just play games."
Although, as Boone-Lewis predicted, the turnout was not as large as that of other Pennies for Patients events, the goal of a fun night was definitely achieved. The event was pleasant and low-key, and did not have quite the same madness and buzz of many other Pennies for Patients events. Throughout the night, a live band playing soft jazz music added to the relaxed atmosphere.  All in all, it was an exciting night and offered students a fun new way to donate to a great cause. Sophomore Vita Matzkin participated in the event.
"I don't usually go to the events, but Game Night seemed like a fun time," Matzkin said. "I played a couple games that I haven't played in a long time, and I had a good night."
All through the night, the sounds of laughter and a live band playing soft jazz filled the room as groups of friends sat at tables and played board and card games. This promoted the outcome of the night- plus the addition of raising money for a great charity.