Thanksgiving recipes!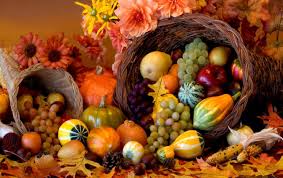 Thanksgiving can be a bit of a challenge, especially for newcomers to the cooking scene. The staff here at The Pitch have taken it upon themselves to compile the recipes for some simple, traditional fall dishes to help out this Thanksgiving. Happy cooking and happy holidays!
Turkey roast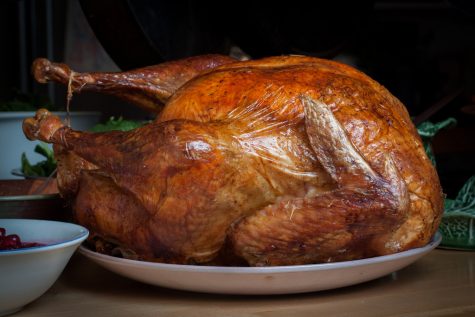 2 tablespoons dried parsley

2 tablespoons ground dried rosemary

2 tablespoons rubbed dried sage

2 tablespoons dried thyme leaves

1 tablespoon lemon pepper

1 tablespoon salt

1 (15 pound) whole turkey, neck and giblets removed

2 stalks celery, chopped

1 orange, cut into wedges

1 onion, chopped

1 carrot, chopped

2 (14.5 ounce) cans chicken broth
Directions
Preheat an oven to 350 degrees F (175 degrees C). Line a turkey roaster, or a two dollar tray from Giant, with long sheets of aluminum foil that will be long enough to wrap over the turkey.

Stir together the parsley, rosemary, sage, thyme, lemon pepper, and salt in a small bowl. Rub the herb mixture into the cavity of the turkey, don't be squeamish, then stuff with the celery, orange, onion and carrot. Truss if desired, or if you know what that means, and place the turkey into the roasting pan. Pour the chicken broth over the turkey, making sure to get some in the cavity. Bring the aluminum foil over the top of the turkey, and seal. Try to keep the foil from touching the skin of the turkey breast or legs.

Bake the turkey in the preheated oven for 2 1/2 to 3 hours until no longer pink at the bone and the juices run clear. Uncover the turkey, and continue baking until the skin turns golden brown, 30 minutes to 1 hour longer. An instant-read thermometer inserted into the thickest part of the thigh, near the bone, should read 180 degrees F (82 degrees C). Remove the turkey from the oven, cover with a doubled sheet of aluminum foil, and allow to rest in a warm area 10 to 15 minutes before slicing. There you have it, a perfect Thanksgiving turkey! 
Stuffing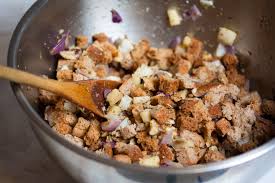 Ingredients
4 tablespoons butter

1 medium onion, chopped

3 celery stalks, cut crosswise in ¼" slices

½ teaspoon salt

1 teaspoon ground sage

1 teaspoon dry thyme

10 cups dried unseasoned bread cubes (found in the bread section at the grocery store)

1½ cups chicken or vegetable broth

1 egg

Optional garnish: ¼ cup fresh parsley, chopped
Instructions
Preheat oven to 350 degrees F. Melt butter in a large pan. Saute onions, celery, salt, sage, and thyme for 5 minutes on medium heat. Turn off heat. Add bread cubes and gently stir them into the onion mixture. Slowly pour chicken broth over the bread cubes folding everything carefully so the bread cubes do not break apart too much. In a small bowl, gently whisk the egg and add it to the stuffing mix. Continue to fold everything until the egg is incorporated. Scoop uncooked stuffing into a medium casserole dish and bake uncovered for 40 minutes or until nice and toasty on top.
Mashed potatoes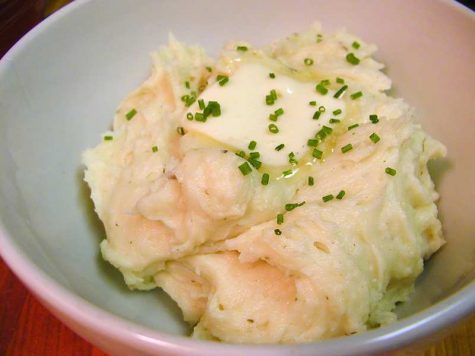 3 pounds Yukon gold potatoes

2 teaspoons salt, divided

1/3 cup butter
1/3 cup half-and-half

4 ounces cream cheese, softened

3/4 teaspoon coarsely ground pepper
Directions
Peel, Boil & Drain. Peel potatoes, and cut into 1-inch pieces. Bring potatoes, 1 tsp. salt, and cold water to cover to a boil in a medium-size Dutch oven over medium-high heat. Reduce heat to medium-low, and cook 16 to 20 minutes or until fork-tender; drain.

Add Creamy Richness. Return potatoes to Dutch oven. Cook until water evaporates and potatoes look dry. Mound potatoes on 1 side; add butter, next 3 ingredients, and remaining 1 tsp. salt to opposite side of Dutch oven. Cook 1 to 2 minutes or until butter is melted and mixture boils.

Beat Until Smooth. Remove from heat; beat at medium speed with a hand-held electric mixer 30 seconds to 1 minute or to desired degree of smoothness. (Do not overbeat.) Serve immediately.
Pecan pie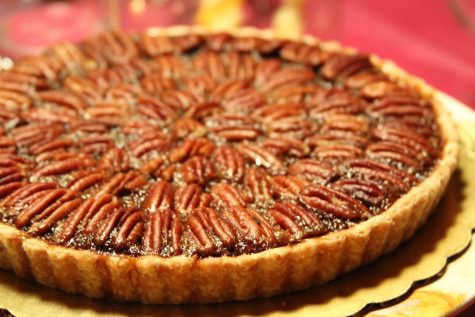 1 cup sugar

1 1⁄2 cups corn syrup

 (I use 1/2 dark and 1/2 light)

4 eggs

1⁄4 cup butter

1 1⁄2 teaspoons vanilla

1 1⁄2 cups pecans

, coarsely broken

1 unbaked deep dish pie shell
Directions
In saucepan boil sugar and corn syrup together for 2 to 3 minutes; set aside to cool slightly.

In large bowl beat eggs lightly and very slowly pour the syrup mixture into the eggs, stirring constantly.

At this point I like to strain the mixture to make sure it's smooth and lump free.

Stir in butter, vanilla, and pecans and pour into crust.

Bake in a 350°F oven for about 45 to 60 minutes 
Green Bean Casserole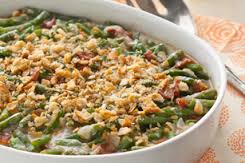 2 (14.5 ounce) cans green beans, drained

Trust our green beans to make time-honored holiday dishes taste like home.

1 (10.75 ounce) can condensed cream of mushroom soup
1 (6 ounce) can French fried onions

1 cup shredded Cheddar cheese
Directions
Preheat oven to 350 degrees F (175 degrees C).

Place green beans and soup in a large microwave-safe bowl. Mix well and heat in the microwave on HIGH until warm (3 to 5 minutes). Stir in 1/2 cup of cheese and heat mixture for another 2 to 3 minutes. Transfer green bean mixture to a casserole dish and sprinkle with French fried onions and remaining cheese.

Bake in a preheated 350 degrees F (175 degrees C) oven until the cheese melts and the onions just begin to brown.
[playbuzz-item url="//www.playbuzz.com/thepitchonline10/do-you-know-how-to-handle-thanksgiving-dinner"]