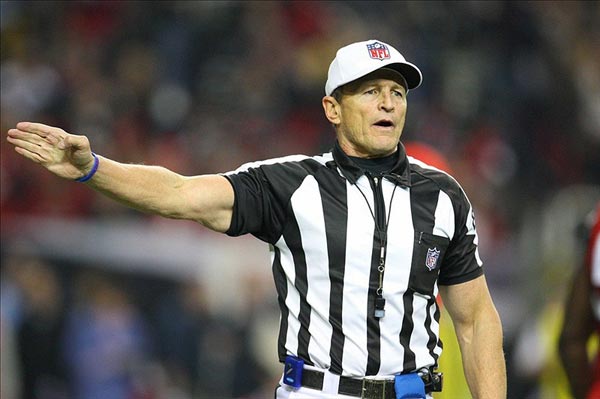 Everyone knows it. Everyone has watched it happen. NFL referees will call a penalty on almost anything, but when the game is at a critical point, the officials won't call the pass interference. This has caused a shift in NFL viewership, as some have stopped watching football, or at least not watched as much as they used to. These plays have infamously followed Seattle Seahawks cornerback Richard Sherman this season, with the call at the end of the Seahawks vs. Atlanta Falcons game on October 16 where pass interference wasn't called on Sherman, stopping the Falcons from reaching field goal position with three seconds left, and the roughing the kicker call against Sherman on the Buffalo Bills' Dan Carpenter on November 7, for which Sherman confusingly wasn't fined.
   Obviously these aren't the only examples, but they are from games that everyone around the country watched and was upset. There are countless calls around the football nation, from Denver Broncos fans in their November 27 game against the Kansas City Chiefs, and from both sides of the Houston Texans vs Oakland Raiders game in Mexico City on November 21.
   Many NFL executives, owners and supervisors have proposed solutions to the NFL referees' situations. These propositions include hiring full-time referees to ref the NFL games. Another is being able to challenge penalty calls. If penalties could be overturned, the referees could have their mistakes reversed to make the game much more fair
   The referees may not be the culprits; it may be the fault of commissioner Roger Goodell. Every single week there's a ridiculous fine on a penalty that isn't a penalty and even vice versa. For example, the Sunday before Thanksgiving, the Seahawks pulled a trick play against the Philadelphia Eagles, having wide receiver Doug Baldwin pass the ball to quarterback Russell Wilson in the end zone. Before the play, Baldwin jokingly flipped off his offensive coordinator, Darrell Bevell, when Bevell called the play because the wide receiver normally doesn't pass. It wasn't on TV, Bevell wasn't offended, but Goodell was and fined Baldwin a ridiculous amount of $12,000.
   So NFL, your alleged opinionated system on referees and fines is a huge problem, and needs to be solved now. You need to stop being prideful and saying nothing is wrong and actually solve the problem to make your fans happy. You'll get the fans back if you do, including me.