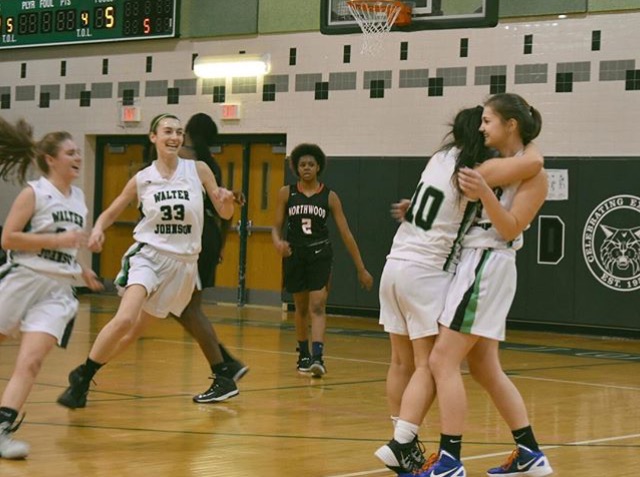 As she stepped on the court with family and friends, she anticipated that history was about to be made. She was three points away from reaching 1000 career points. Just two minutes into the senior night home game against Northwood High School on February 10, she ran along the baseline, received a pass from fellow senior Ana Flake and launched up a three-point shot from the corner. The ball hung in the air, as people from both sides of the stands stood up in anticipation. Then it happened. The ball went right through the net and history was made.
This was the feeling senior guard Jordan Zavareei went through when scoring her 1000th point for the girls' basketball team. After doing so, the game stopped and her teammates, coaches and family all rushed the court in support. Flowers and balloons were given out quickly and videos were taken, as everyone on the court stopped to appreciate the greatness, even if it was at the beginning of a high-intensity game.
"Scoring my 1000th point was so exciting," she said. "My teammates, coaches, friends and family were just as happy as I was, which made it a special moment."
Zavareei has been on varsity basketball ever since her freshman year, and was the captain and star player going into her senior season. The "firecats," as the team dubbed themselves, carried the excitement from the colossal moment to go on and defeat the visiting Gladiators, 45-36. The girls rallied around Zavareei's accomplishment, and the other seniors also contributed in their last home game, with Zavareei and senior forwards Ellen Yaffe and Sarah Sabet being the top three scorers for the team.
"It's bittersweet going into the final stretch of my last season of high school basketball," Zavareei said. "But it ups the stakes, and I think everyone is extra focused because of that."
This moment is just another accolade in an already impressive season, and the connections these girls have make the ladies look even scarier going into the playoffs.
"We're heading in the right direction," Yaffe said. "Throughout the course of the season, we've been improving every day during practice, and it has really shown in our games."
The girls are in the midst of a three game winning streak, including a dominant 65-12 win over Einstein High School, in which the Wildcats shut out their opponent in the second and third quarters, the win over Northwood and a tough 43-36 victory against Sherwood High School.
"I feel good going into the playoffs because no matter what happens we are going to give it our all," Sabet said.
This win streak has been the longest all season and couldn't have come at a better time for the Cats. With only one regular season game left against Seneca Valley High School today at 5:30pm, the girls looked armed and ready to keep this historic season going.