The faults in the College Application process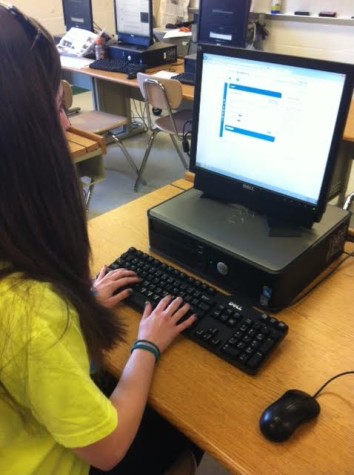 This fall, most colleges and universities will begin accepting student applications. Students will rush to send in their standardized test scores, write their essays and finish their applications before the deadlines. They are ultimately being judged on the basis of numbers and one written essay, whilst being compared to the hundreds or even thousands of other applicants. This information does matter, and is necessary to the college process, but could it be completed in a less stressful way?
Students are constantly stressed throughout the college application process. I know from my own experience that with the pressure of maintaining a high cumulative grade point average, taking challenging classes and handling growing emphasis on having a perfect application that seniors are completely overwhelmed. Once this process is over, however, students still aren't done, because most schools review your second semester senior year grades in order to reduce the number of students putting forth no effort. In fact, some schools even repeal admissions to students with a declining grade point average second semester. Senior year is supposed to be filled with long-lasting memories such as prom, homecoming and graduation yet it is arguably one of the hardest years of high school due to stress placed on applications and grades.
Applications themselves are difficult to complete. Including all of your activities, every single grade since middle school and a personal essay that describes all of you in just 650 words, it can be quite demanding. The "Common Application" has been a great attempt at making this process easier, standardizing applications to many colleges around the country. Unfortunately, some colleges have their own application that is distinctly different from the Common Application or use another standardized application. Each college follows a standard early action, which falls from August to December and regular action December through April. With all of these miscellaneous dates and applications, it can be hard for students to keep track of what they've done and what they've submitted.
Yet, the question still remains: Are these applications completely unnecessary for a school to learn about a student? I believe that as long as you send your GPA and writing, they will be able to evaluate you just as well in an interview. Fitting your entire personality in a 650 word writing is nearly impossible, and an interview can tell you things that numbers just cannot. Being personable is one thing college's stress, yet how would they be able to tell how relateable and dedicated you are through a few numbers? It is almost as if they care more about scores than the intentions of their students.
So how can we fix the college application process? First off, colleges and universities in the United States should have one consistent application that students only have to fill out once. Having the same application helps the students' stress levels and time management, as well as showing schools how different students respond to the same questions. Secondly, colleges should all have the same due dates and deadlines. This would allow all schools to have the same amount of time to consider applicants and each student has the same amount of time to complete them without having to worry that they forgot an application due on a separate date. Lastly, in addition to a small personal essay, students who are being considered should have an over-the-phone interview to give the admissions officer a gauge about what type of student they are admitting. To the other senior s applying to college- good luck! This process has been completed before and it will be completed again!