Stranger Things 2 Review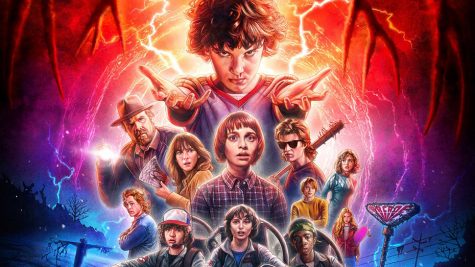 Hang on for a minute...we're trying to find some more stories you might like.
WARNING: spoilers ahead!
Season two of Netflix's original series "Stranger Things" came out on October 27. The sci-fi series had many craving for the second season since it first premiered in July of last year.
The show left us all in suspense after the season one finale, when Will coughed up a specimen from The Upsidedown and Eleven was presumed dead.
In chapter one, titled "MADMAX," two new characters were introduced: step siblings Max and Billy Hargrove. If while watching any scene that Billy had been in you thought to yourself: "Ew. Leave," your opinion is correct.
There is only one word to sum up season 2: CRAZY.
The season started with the boys playing in an arcade, seeming as if everything had been good since they were last in the Upsidedown. In the arcade, Will had an "episode" remembering what it was like being in the Upsidedown. Little did the viewers know these "episodes" weren't memories, and would create the plot of the season, centered around Will.
Will Buyers (played by Noah Schnapp) wasn't in season one much, as he was stuck in the Upsidedown. It came as a great surprise that he turned out to be such a tremendous actor.
This season's budget didn't even compare to season one, as bothspecial effects and production were bigger and better.
Season two featured new doctors, new creatures, new romance, violence, death, characters and five times more suspense.
The special effects were unbelieveable, the children's acting is amazing and this season's soundtrack was impeccable.
"It's hard not to watch the whole season at once because it's so good. I liked this season because it had the perfect amount of scare and wit. It also had such a good musical soundtrack," junior Grace Burgett said.
Most of my thoughts on this season are positive; however, episode seven was completely unnecessary. I also think that the character Billy is irrelevant as he didn't develop into anything and was just angry.
One of the best things about this season are the new relationships, not just romantically, but the new friendships that form are heartwarming and adorable.
If you haven't seen this season, I strongly suggest skipping school and binge watching the whole thing at once. Try not to suffer from withdrawal when you finish!