NBA GOAT: LeBron or MJ: Point/Counterpoint
Hang on for a minute...we're trying to find some more stories you might like.
More stories from Isaac Snow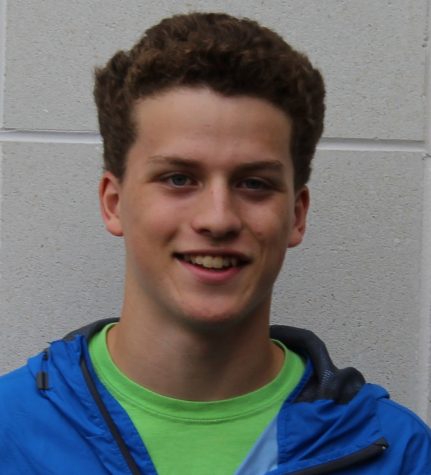 More stories from Thomas Wolfson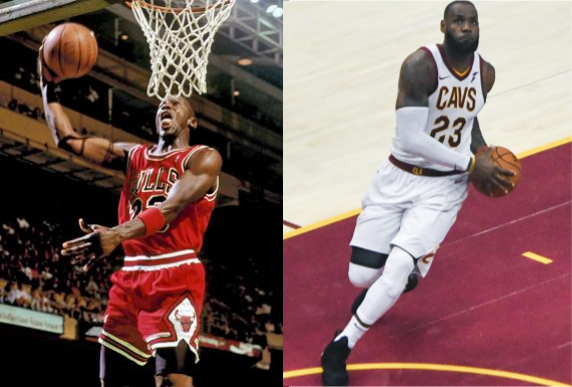 LeBron James – Isaac Snow
As the 2017-18 NBA season draws to a close, the everlasting debate over who the greatest NBA player is continues to rage on. To almost all of the basketball world, the answer has come down to two options, LeBron James or Michael Jordan. For a long time, it's been uncertain as to who truly is the GOAT, but it's time to acknowledge that we finally have an answer. LeBron James is the best basketball player who ever lived, the greatest basketball player of all time, and it's not even close.
Of course, it's not an easy decision. You can look at statistics over and over again until your eyes bleed, and you won't come up with a decision. But just for fun, let's look at the stats and see what they show. Jordan has the advantage over LeBron in only one category, points per game. In contrast, LeBron averages more rebounds and assists per game than Jordan and has a higher career field goal and three point percentage.
Something stands out among these stats. LeBron leads Jordan in almost every important statistical category necessary to be a great basketball player. The only thing Jordan leads LeBron in is points per game, and LeBron makes up for the loss in his rebounds, assists, and everything else he does for his teams. In addition, LeBron contributes more wins to his team, shown in his advantage of the win share stat, which shows how many wins a player adds to his team, over Jordan.
But statistics don't mean everything. Looking past the stats, LeBron has the advantage over Jordan in many other ways.
Current basketball fans are watching LeBron right now, flaws and all. In contrast, Jordan is put up on a pedestal of sorts, benefitting from the bias given to him now that he's retired. We need to look past that shroud surrounding Jordan and realize that he never had the intangibles Lebron had, nor was he more valuable than LeBron is. Let's start with the intangibles. LeBron is a freak of nature, with incredible speed, strength, vision and processing. Jordan, on the other hand, had the talent, but just wasn't as gifted genetically and mentally as LeBron is.
It's also worth mentioning that LeBron's durability is absolutely insane and has never been seen before in the history of the game of basketball. LeBron, at the end of his 15th season, has 3,000 more minutes than Jordan did in his entire career, also 15 seasons. The longest LeBron has ever been out with an injury came in the 2014-15 season, when he missed a stretch of 15 games. LeBron has also missed a total of 71 games of the games his teams played, while Jordan missed 86 games in just two seasons combined. In addition, James has played an incredible 238 playoff games, out of his teams 238 playoff games. That means that James has played every single playoff game his team has played in, and has never missed one. In LeBron's 15 seasons so far, he's played 3,000 more minutes than Jordan played in his career, and he's still going strong and seems to be nowhere close to stopping and retiring. He could easily play another five or six seasons, bringing his total to 20 or 21 seasons. Not to mention that LeBron has played 15 consecutive seasons, while Jordan took a break in the middle to go play baseball. That means that by the end of his career, LeBron will most likely have played more minutes in more seasons than Jordan with better all-around stats than Jordan, without taking a break in the middle like Jordan. These amazing stats speak to Lebron's durability and his greatness.
Another point worth being made is LeBron's value to his team compared to Jordan. In the 1992-93 season, Jordan's Bulls won 57 games in the regular season. After Jordan retired over the offseason, the Bulls came back with four of the five same starters as the previous year, Jordan being the only one gone. Instead of Jordan, the Bulls now had Pete Meyers starting in his spot, who scored 4.5 points per game during his career. That year, they won 55 games. I ask you, if the Cavaliers replaced LeBron with a 4.5 points per game scorer, would they even make the playoffs? I think not. Further proving my point, LeBron won 61 games with the Cavaliers during the 2009-10 NBA season, and after he left over the offseason to go to the Miami Heat, the Cavaliers dropped to just 19 wins and the second worst record in the league.
Of course, bringing up LeBron's decision to go to the Heat brings up another important topic in the LeBron v. Jordan debate, the championships. One of the arguments is that LeBron had to join fellow All-Stars Dwyane Wade and Chris Bosh in Miami to win a championship ring. First of all, we wouldn't be saying the same thing if Wade and Bosh had come to Cleveland instead of them going to Miami. It's not LeBron's fault that Miami is just a better place to live and play in than Cleveland. It's also not LeBron's fault that Jordan had players come to him instead of Jordan leaving Chicago.
Second of all, what many people ignore is that Jordan couldn't even make the Finals by himself, evident in his failures without Scottie Pippen and an incredibly underrated supporting cast in Chicago. LeBron, on the other hand, has made the Finals all by himself. LeBron has made nine finals, including an amazing eight in a row. Three of those nine have been with no other true stars and weak supporting casts.
Another argument about the Finals is that Jordan is undefeated in championship series' with six wins out of six tries. LeBron has a less than outstanding three wins out of nine tries, losing six times in the NBA Finals. Many Jordan fans and debaters use this argument as a deal-breaker, the stat that puts Jordan over the top. But going 6-0 in Finals series' doesn't really matter as much as a lot of people say it does.
Jordan's six championships came in a bit of a slow time for the NBA. The primes of Magic Johnson, Larry Bird, and Isiah Thomas had all passed, while the Lakers dynasty with Kobe Bryant and Shaquille O'Neal hadn't quite materialized yet. The best team Jordan's Bulls faced in the Finals was the 1992-93 Phoenix Suns led by Charles Barkley. Jordan and his teams never faced real stars or great teams in the Finals.
Comparatively, LeBron's Cavaliers have matched up against many amazing teams. In the Finals, LeBron has faced the San Antonio Spurs with Tim Duncan, Manu Ginobili and Tony Parker all in their primes along with another Spurs team with Kawhi Leonard, one of the best defensive players of the generation. He's had to go up against surefire future hall of famers and absolutely amazing players such as Dirk Nowitzki, Russell Westbrook, Kevin Durant and Stephen Curry. Not to mention that LeBron's Cavaliers faced the team with the best regular season record in NBA history in the 2015-16 Finals, the 73-win Golden State Warriors, and won. That's right, LeBron beat the best team in NBA history in the Finals, and he did it in outstanding fashion. LeBron led his team in a comeback from being down three games to one in the series to winning the next three and the championship over the best team ever.
It's also worth mentioning that he averaged 30 points, 11 rebounds, and nine assists in that series, and scored over 40 points in two of the games, and had an absolutely incredible and superhuman chasedown block with two minutes remaining of game 7 that saved the game for the Cavaliers. It's to LeBron's credit that the Warriors had to sign Kevin Durant, a top three NBA player, to their already great team to beat LeBron.
The next time Jordan's six for six is brought up, just remember that he didn't have to face some of the best teams of all time with some of the best players of the generation and he didn't make an incredible comeback against the team with the best record in NBA history like LeBron did.
"The Block," as it has come to be called, brings attention to LeBron's defensive dominance. He's one of the best in the game at shutting down opposing players, blocking shots, and stealing the ball away from the other team. That, combined with LeBron's incredible court and defensive awareness, which has never been seen before in NBA history, is one of the main reasons he's been named to five NBA All-Defensive First Teams.
Some might say, yeah sure, LeBron's a great defender, but Jordan was better. They point out that Jordan led the league in steals three times and made nine All-Defensive First Teams compared to LeBron's five. In reality, LeBron was actually the better defender.
At the outset of the 2004-05 NBA season, the NBA outlawed a thing called the hand check. It might not sound like much, maybe a minor rule change at most. Actually, it plays a huge part in realizing that LeBron is a much better defender than Jordan ever was. Jordan is known for his stealing ability, but many of those steals came from hand checking. Defined by the NBA, hand checking is "an illegal form of defense in which a defending player uses one or both of his hands or his arm to impede the forward or lateral movement of an offensive player." Most of Jordan's steals came because he hand checked, which is now illegal for LeBron.
If the hand check had been illegal when Jordan played, he wouldn't have had nearly as many steals, he wouldn't have made nearly as many All-Defensive First Teams as he did, and he wouldn't be so known for his defense as he is now. In contrast, if the hand check was legal now, LeBron would have a lot more steals, perhaps even more than Jordan, LeBron would have made more All-Defensive First Teams because he would have more steals, and he would be known as a much better defender than Jordan. Basically, one of Jordan's claims to fame is that he was such a good defender, better than LeBron, but if the rules had been the same for both players, it's clear that LeBron would be considered the better defender.
Yet another point worth being made is that many LeBron critics criticize him as making players around him and on his teams worse, while Jordan actually made them better. That's not entirely true. These critics cite players like guard Jordan Clarkson as references, and while there admittedly are some players who don't click with LeBron, many players do. Guys like big men Zydrunas Ilgauskas and Anderson Varejao excelled under LeBron. Forwards Jeff Green and Antawn Jamison had some of their best seasons with LeBron, even though they were late into their careers. And finally, guards Mo Williams and Kyrie Irving were both better with LeBron. Williams had some of the best seasons in his career running the point with LeBron and Irving blossomed into a superstar. Without LeBron, Irving wouldn't be nearly the quality of player he is today.
The second part of the argument from LeBron critics is that Jordan made his teammates better. Did he really though? The answer is no. Players like Scottie Pippen and Steve Kerr had their best seasons during the seasons when Jordan wasn't on the team during his retirement. As a team, the Bulls players who were on the team both when Jordan was playing and when he retired had better seasons when he retired, and they had a higher shooting percentage as a team.
Faced with the facts, it's obvious. "King James" is the greatest basketball player of all time. Accept it NBA fans, Michael Jordan is no longer the GOAT, LeBron is. The King has earned his crown.
Michael Jordan – Thomas Wolfson
As LeBron James continued to add to his legacy in this year's playoffs, until he got swept in the NBA Finals, his name was increasingly being put next to Michael Jordan. It's an argument that basketball fans simply cannot get away from. But I question how there can be an argument over something so clear cut.
Michael Jordan is the greatest basketball player of all time. Period. LeBron will never reach Jordan's status. Let's jump right into why this is.
The typical argument for LeBron is that he is the better pure basketball player than Jordan, which is a very flawed argument right from the jump. LeBron and Jordan are two very different basketball players. Jordan is without a doubt a much better scorer than LeBron. For his career, Jordan averaged 30.1 points per game, first all time, and averaged at least 30 points per game in eight separate seasons. LeBron on the other hand, has a career average of 27.2 points per game and has only averaged 30 points per game in one season. Bare in mind that Jordan was scoring at a much higher level than LeBron while playing in a much tougher era defensively. The game was more physical, and the rules allowed the defense to make more contact with offensive players. If you rewatch games from the 90's when Jordan played, you'll most likely see teams score around 90 points, maybe even just 80. Watch today's games, and you'll see teams routinely score in the 100's. Yet Jordan still averaged more points than LeBron.
In addition to being a better scorer, Jordan is a also a much better defender than James. Jordan was selected for more all-defensive teams than LeBron, nine to six, and for his career averaged 2.3 steals per game, compared to just 1.6 for LeBron. LeBron is known for not consuming all his energy on defense so that he can conserve energy for offense. Jordan did not do this, or not nearly as much as LeBron. And although LeBron is acclaimed for his famous chasedown blocks, for his career he only averages 0.8 blocks per game, the same amount Jordan did, despite being much shorter than LeBron.
Of course, LeBron supporters will turn to Lebron's assist and rebound numbers to say that LeBron is a more complete player. Is LeBron a great passer? Yes. LeBron's 7.2 assist per game for his game is better than Jordan's 5.3. So we'll give the point to LeBron there. But rebounding is a different story. Yes, LeBron's average of 7.3 rebounds per game is better than Jordan's average of 6.2. But you have to take into account that LeBron is 6'8" and very big. Jordan was generously listed at 6'6" throughout his career, but was said to be much closer to around 6'4." (It's a common practice in sports for athletes to exaggerate their height). And Jordan just wasn't built in the same way LeBron is. Yet, he only averaged one less rebound per game than LeBron.
If we get into real advanced metrics, the scale still tips in favor of Jordan. LeBron may have more overall win shares than Jordan, but that is only because he's played in more games than Jordan. Jordan's win shares per 48 minutes is higher than LeBron's. Looking at the per 48 number of win shares is a better way of looking at the impact a player has on the game. The fact that Jordan's per 48 win share number is higher than LeBron's indicates that Jordan had, on average, a higher impact in the game than what LeBron has had.
When you truly dive into the stats like I did, without just looking at them at face value, they point in the favor of Jordan. However, when we're talking about the greatest of all time we're talking about more than just stats. How about intangibles?
It's almost too easy to point out that Jordan was 6 for 6 in the NBA Finals and could've been 8 for 8 had he not retired in the middle of his prime for two years before coming back. Whereas LeBron is just 3 for 9. On top of that, the NBA was much deeper when Jordan played. There were a lot of great teams in Jordan's era. Reggie Miller and the Pacers, Patrick Ewing and the Knicks, Hakeem Olajuwon and the Rockets, Charles Barkley and the Suns, Karl Malone and the Jazz, just to name a few. Although LeBron has faced extremely tough teams like the Golden State Warriors in the Finals, he's had cakewalks to get to the Finals. The Eastern conference simply has not been competitive in LeBron's time, which is part of the reason he's been to nine Finals. Jordan had to get through a dynasty, in the Detroit Pistons early in his career. Not to mention that if Jordan went into the paint against the Pistons, he would get beaten up and knocked down. LeBron has never had to deal with such physicality.
LeBron fans excuse LeBron's lack of NBA Finals success with "Oh, LeBron has never had the same supporting cast as Jordan." That statement is simply false in about every way possible. First of all, before either player won an NBA title they both went through their struggles and heartbreaking defeat. The difference? Jordan stuck with his team, made his own teammates better, and let the Chicago Bulls management build around him, while LeBron skipped town to go play in Miami with two other superstars in Dwyane Wade and Chris Bosh. Even then LeBron only managed to win 2 out of 4 championships. Jordan went 6 for 6 without playing with any other superstar. That's right, Scottie Pippen was not a superstar. In fact, if it weren't for Jordan, Pippen probably would not nearly be talked about as much as he is today. Pippen would definitely not have the TV gig he has on NBA: The Jump, and might've even been just been a borderline hall of famer. Yes, he was a great player. But superstars average more than 16.1 points per game for their career, which was Pippen's average. In his best season, Pippen averaged 21.4 points per game. Compare that to Wade and Bosh. In their best seasons, they averaged 30.2 and 24 points per game respectively. This indicates that LeBron has played with more top end talent than Jordan ever did.
LeBron's 4 Finals appearances in Miami are only half of his championship runs. He got to one in his first stint with the Cleveland Cavaliers, where yes, I do admit he had almost no one. But his second stint in Cleveland has been different. He conveniently went back to Cleveland when they had developed a superstar in Kyrie Irving, and acquired one in Kevin Love. They've lost to the Golden State Warriors in the Finals three times, and beat them once, coming back from a 3-1 deficit. Undoubtedly one of the most memorable moments in sports, and a great accomplishment by LeBron. But he did have a really solid supporting cast behind him, probably better than any of Jordan's supporting cast which consisted mostly of good role players.
Surprisingly, after LeBron led Cleveland to that historic title, there still wasn't much talk of comparing him to Jordan as the greatest. No, it's actually been this year, as LeBron led the Cavs to Finals again with 'no supporting cast,' as everyone likes to say. "Jordan never led a team to the Finals like LeBron is doing" is what LeBron fans seem to argue. And they're right, Jordan didn't have to ever do it by himself, but LeBron didn't 'have to' either.
Remember Kyrie Irving? The guy who hit the decisive shot in game 7 to beat the Warriors in 2016, Lebron's sidekick? Oh yeah, he requested a trade because he was tired of being in LeBron's shadow. Not only did he request a trade, he did it without even consulting LeBron. Requesting a trade isn't even the right word for it, Irving demanded a trade. He reportedly told the Cavs he would undergo season-ending surgery if they didn't trade him. What does that say? LeBron and Irving obviously could not co-exist. It's the team leader's responsibility to make others better, and get along with everyone. There were most certainly times in Scottie Pippen's career where he was thinking about leaving Chicago to be the face of a franchise on another team to get out of Jordan's shadow. But he didn't leave. Jordan and Pippen got along off and on the court. Towards the end of his career with the Bulls, Jordan said he would only keep playing if Pippen stayed on the Bulls. Jordan made his teammates better, and kept them all happy. Notable role players who Jordan made better? Dennis Rodman, Steve Kerr, Ron Harper, Toni Kukoc, Horace Grant, I could go on and on about all the players who thrived while playing with Jordan. And they thrived because Jordan trusted them. Jordan once famously gave up the last shot of a game to Steve Kerr. Jordan was being swamped by defenders, passed it off to Kerr who hit the game winning shot. This illustrates Jordan's leadership abilities, and how others were comfortable in playing off him. But this is not the case with LeBron.
I already mentioned the fact that LeBron can't seem to coexist with his teammates, but he also just doesn't make players around him better. When the Cavs made the Kyrie Irving trade, many analysts actually thought they got the better deal. The Cavs got a first round draft pick, a great point guard in Isaiah Thomas, and a very solid player in Jae Crowder. But Crowder and Thomas were gone by the trade deadline. You could potentially give LeBron a pass for Isaiah Thomas, as he was largely ineffective due to injury, but it was reported he also did not coexist with LeBron.
But the Crowder situation was strange. Crowder played at an all star level with the Celtics, he was a phenomenal role player. But once he got to the Cavs, he seemed to completely lose his game. So, they traded him. The Cavs completely rebuilt their team at the trade deadline, and got more good role players, including three young athletic players. Jordan Clarkson and Larry Nance were two of those players, both talented young players from the Lakers, but if you watched the playoffs this year, you would've seen these two contributing almost nothing. Same for Rodney Hood who the Cavs got from the Jazz at the deadline. Look at Hood's, Clarkson's, and Nance's numbers before they got to the Cavs, compared to this year, especially the playoffs.
These players aren't producing because they're not capable or talented enough, it's because they're in an uncomfortable situation. Jordan Clarkson went from being a talented scorer to looking like a deer caught in headlights for the Cavs. Rodney Hood went from being an impact player for the Jazz, to not even getting in the playoff rotation for the Cavs. Larry Nance averaged a meager five points per game this playoffs, after being a solid role player for the Lakers. It's on the best player and team leader's responsibility to make teammates better. It's false to say LeBron doesn't have a supporting cast. He has one, they just all seem to play worse when they're with him. Now what does that say?
Now that the Cavs have gotten swept by the Warriors, LeBron will likely skip town again, and go form a superteam with the Houston Rockets, where he'll have superstars around him, who won't need LeBron to make them better. And that is what will always separate Jordan from LeBron. Not stats, not skill and not even championships. No, what will always separate Jordan from LeBron is that Jordan's greatness rubbed off on everyone he played with, whereas LeBron's greatness is limited to himself, and himself only.

About the Writers
Isaac Snow, Staff Writer
Sophomore Isaac snow is in his first year writing for The Pitch. In his free time, he enjoys baseball, writing, and spending time with his pals (three...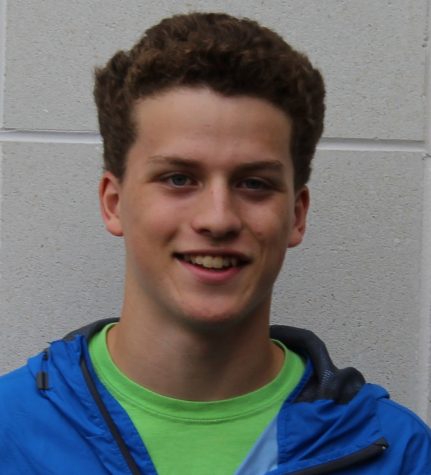 Thomas Wolfson, Print Opinion Editor
Thomas Wolfson is currently a junior at WJ.  This is his second year on The Pitch. Last year, he served as a print sports editor.  This year, he's...