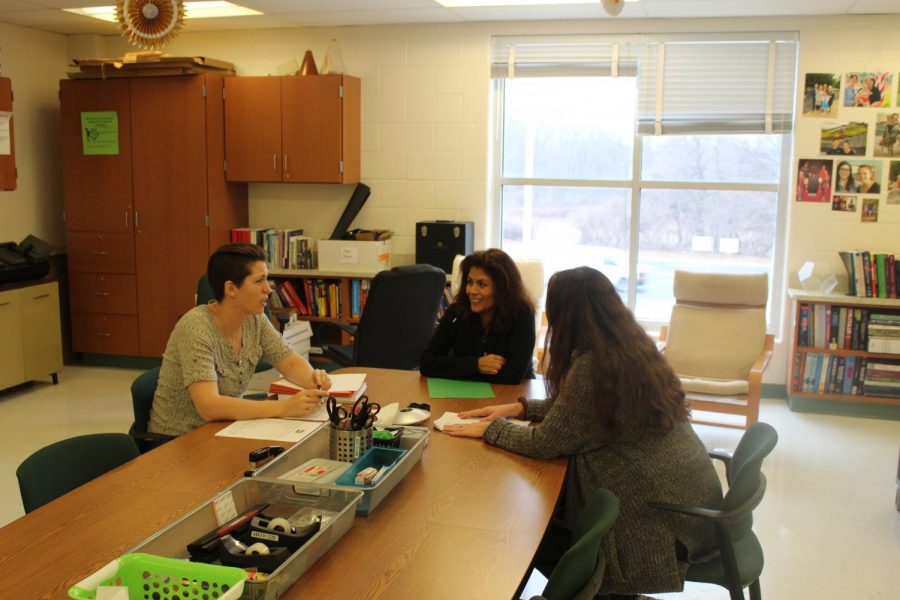 Photo by Jack Linde
Throughout the school day, students sit in class, do their work and hang out with their friends. But have you ever wondered how teachers interact with each other when they're not teaching a class? At The Pitch, we have.
Can you think back to the last school assembly you attended? Chances are, you looked for your friends and chatted with them throughout the period. This was the first analogy that popped into the head of physics teacher Adam Zeitlin when he was asked about his interactions with fellow staff.
"It's just like being a kid in school. At the meetings for all staff, it's just like an assembly where all the students are with their friends and make jokes about what's going on," Zeitlin said.
Zeitlin is pretty young for a WJ teacher. He is only 24, and he graduated from Walter Johnson in the class of 2013. Last year, he was a long-term sub for AP English Language and Composition while Joshua Fullenkamp was on paternity leave.
With all of these things combined, Zeitlin has many friends in the English and science departments, as well as throughout the school. This interdepartmental mingling is unique position among staff.
"As far as I know and see, most teachers are mostly friends with and hang out with the other teachers in their department," Zeitlin said.
He explained why this makes sense. Teachers don't have a lot of time during the school day just to hang out and talk. When teachers do have time that they're not teaching a class and they are not doing work, they are generally in their department offices.
Similarly, daily situations and conflicts that arise are handled within their respective departments. Meetings are also usually limited to specific departments. All of these factors make it logical that most teachers are friends with those who teach similar subjects.
For junior Pablo Rouco, a group of faculty that immediately came to mind was the music department.
"It's a small department of four people that are kind of [physically] separated from the rest of the school," Rouco said.
He also thought of the art department. Rouco says that he always sees the art teachers together in their office. He often sees them either getting or eating lunch together throughout the week. For Rouco, like Zeitlin, it makes sense that a lot of teachers are primarily friends with those in their own departments.
Daniel Kempner is a long-time photography teacher at WJ. He is nearing his 13th year with the school since he was first hired as a long-time sub in 2007.
"We are not a very large department and we work right next door to each other so it makes us pretty tight," Kempner said.
Kempner laughed when asked about the art teachers' tendency to eat lunch together.
"On the occasion that none of us have lunch we brought from home, we like to make our weekly field trip to Balducci's for fresh air and a brief escape," Kempner said.
Kempner agreed that the art department is close because of where they are located in the building.
"We definitely feel isolated in the far side of the G-wing. On the rare occasion that I'm on the second floor, any teacher who sees and recognizes me asks if I'm lost," Kempner said.
Kempner says that every art teacher has heard that joke at least once.
However, all of this is not to say that every teacher has no friends outside of their designated subject area.
"Most teachers have someone they know in a different department," Zeitlin said.