100 Years Comparison
One hundred years ago, it was the roaring 20s. The 1920s had just begun and it brought many things: jazz, movies, radio, kissing in cars, illegal drinking, prosperity – though not for everyone – and a credit-based consumer culture. A lot of bias toward immigrants was revealed, and ultimately, the worst economic crisis the US has ever seen came from the 1920s. However, it had one of the most advanced pop cultures ever, and thus let's do a comparison of what was popular in the 1920s to what is now popular.
Movies:
The idea of combining motion pictures with recorded sound is nearly as old as the motion picture itself, but because of the technical challenges involved, most films were silent before the late 1920s.
The 1920s → Metropolis
Metropolis was a German movie that was released in the US on March 13, 1927. Directed by Fritz Lang, this movie presents a highly stylized futuristic city where a beautiful and cultured utopia exists above a bleak underworld populated by mistreated workers. When the privileged youth Freder discovers the grim scene under the city, he becomes intent on helping the workers. He befriends the rebellious teacher Maria, but this puts him at odds with his authoritative father, leading to greater conflict.
Similar film from the 2020s → Infinite
Directed by Antoine Fuqua, Infinite focuses on the hallucinations of a schizophrenic, which are revealed to be memories from past lives where he obtained talents that he still has to this day. The film is an adaptation of D. Eric Maikranz's novel The Reincarnationist Papers, which was written in the style of a real manuscript discovered in an antique store. Infinite has yet to come out (Aug 7. 2020), however, its plot resembles the idea of having two worlds and maybe the rebellion of a higher up.
The 1920s → Nosferatu: A Symphony of Horror
Nosferatu: A Symphony of Horror was a 1922 silent German Expressionist horror film directed by F. W. Murnau. In this horror film, the mysterious Count Orlok summons Thomas Hutter to his remote Transylvanian castle in the mountains. The eerie Orlok seeks to buy a house near Hutter and his wife, Ellen. After Orlok reveals his vampire nature, Hutter struggles to escape the castle, knowing that Ellen is in grave danger. Meanwhile Orlok's servant, Knock, prepares for his master to arrive at his new home.
Similar film from the 2020s → The Turning
Released not too long ago, (Jan 24, 2020) The Turning is a horror movie, where Kate Mandell takes a job as a nanny for two young orphans at an isolated Gothic mansion in the Maine countryside. She soon learns that the children — Miles and Flora — are emotionally distant and unstable. When strange events start to plague Kate and the siblings, she begins to suspect that the estate's dark corridors are home to a malevolent entity. The plot of both of these movies focuses on a character travelling to a remote area, to only realize that something is amiss with the people who live there.
What is interesting to note is that in the 1920s, since all movies were silent, many of the grossing movies were international and not necessarily made or directed in the US. This might have been the Oscar's fault. The first Academy Awards ceremony, presented by the Academy of Motion Picture Arts and Sciences (AMPAS), honored the best films of 1927 and 1928 and took place on May 16,1929, at a private dinner held at the Hollywood Roosevelt Hotel in Los Angeles, California.
Music:
Jazz music reached the mainstream in the 1920s when Southern African American musicians began moving up to Chicago looking for work. The Twenties are often called the Jazz Age because the popularization of Jazz music had an enormous cultural effect.
The 1920s → "Swanee" – Al Jolson
Charted at #1 in 1920. #1 for 9 weeks. One of Jolson's most famous signature songs. George's Gershwin's first hit song. "Swanee" was actually introduced by a singer named Muriel DeForrest in October 1919 but was not a success until Al Jolson performed it in December 1919 at a Winter Garden show. It was then added to the score of his show, Sinbad.
Similar music from the 2020s → "What a Man Gotta Do" – Jonas Brothers
What a Man Gotta Do is a song by American group Jonas Brothers. It was released on Jan. 17, 2020 as the lead single of their upcoming sixth studio album
The similarities of "What a Man Gotta Do" and "Swanee" do not lie with their music style, but through their lyrics. Both songs are about the "male" counterpart of a relationship saying how much they love their partner and how they would do anything for them.
The 1920s → "Crazy Blues" – Mamie Smith
"Crazy Blues" is a song written by Perry Bradford. Mamie Smith and Her Jazz Hounds recorded it on Aug. 10, 1920, which was released that year by Okeh Records. The stride pianist Willie "The Lion" Smith appeared in photographs associated with the recording session, although Bradford claimed to have played piano on the recording (albeit buried in the mix). Within a month of release, it had sold 75,000 copies.
Similar music from the 2020s → Rare – Selena Gomez
Rare is the third solo studio album by American singer Selena Gomez. It was released on Jan.10, 2020, through Interscope Records. As the executive producer, Gomez worked with a variety of producers, including Ian Kirkpatrick, Mike Dean, Jason Evigan, Finneas, Mattman & Robin, Sir Nolan, The Monsters, The Strangerz and David Pramik. Gomez stated that this album is her "diary from the past few years". Musically, it is a pop and dance album, with influences from R&B, latin pop and electronic music.
Both songs are once again similar, due to their lyrics. In Rare, Selena Gomez sings about how her love with her partner is dying and that she isn't treated right. She knows that she can be treated like a "rare" treasure by someone else. Meanwhile, in the song "Crazy Blues", Mamie Smith also sings about how her man doesn't treat her right and because of it she has the "blues".
Your donation will support the student journalists of Walter Johnson High School. Your contribution will allow us to purchase equipment and cover our annual website hosting costs.
About the Contributor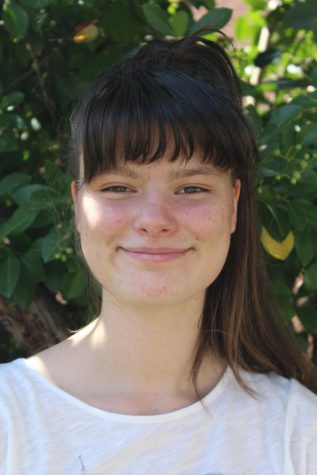 Marie-Elise Latorre, Layout Editor
Senior Marie-Elise Latorre is thrilled to start her journey on the Pitch as a layout editor. She discovered her passion for writing last year, and is excited...