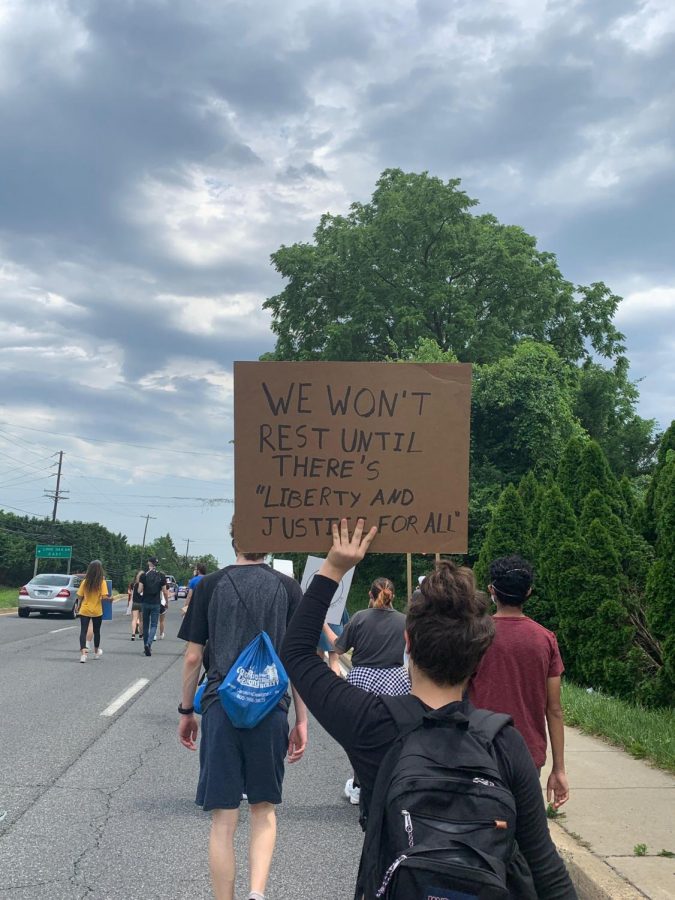 Photo By Nyomi Fox
Over the summer the United States experienced its largest protests since 1968. Sparked by the death of George Floyd, much of the country rallied behind slogans like "Black Lives Matter" and "We can't breathe" in order to express frustration over police violence and systemic racism. The protests touched almost every region of the United States. Here in Montgomery County there were multiple protests organized and led by students including one at WJ.
These movements have impacted the WJ community as many students have taken this time to become more politically educated and active. WJ students expressed themselves both by attending protests and by voicing their opinions on social media.
Junior Joyce Onana expressed her opinion on the importance of the Black Lives Matter movement as a whole.
"The movement is a monumental point in our history. The Black Lives Matter movement isn't something that just came up out of nowhere, it wasn't developed nor started by the murders of George Floyd and Ahmaud Arbery. It is a movement that has been fought for since the death of Emmitt Till in the 1950s." Onana said.
Senior Ashley Wallace stated her appreciation of the awareness the movement has brought to the United States.
"Even though America still has a long way to go, I think that one of the strongest changes has simply been awareness. I feel like people in our nation tend to sweep deep issues under the rug due to them being too complex or too challenging. We can't expect change to come within a few months, change sometimes takes centuries," Wallace said.
In other parts of the country these protests have also been affected by instances of violence as rioters burned the Minneapolis police third precinct station and caused additional damages across the country. Many rightwing commentators have taken these instances to portray the Black Lives Matter movment as violent and uncontrollable. At the Republican National Convention many speakers echoed the need for law and order in the United States; however,a recent report suggests that more than 93% of all Black Lives Matter protests were peaceful in nature suggesting that the rioting was more of a rare occurrence.
In June, an organized protest was held at WJ with students marching to the local YMCA on Old Georgetown Road. The protest also had a short panel with speakers voicing their opinion on the movement on a local and national scale. Congressman Jamie Raskin (D) from the 8th district stated at the protest that the modern Black Lives Matter movement was "third and final reconstruction" in reference to the inconclusivity of the end of Jim Crow in the 1960s and the end of the Civil War reconstruction in the 1870s.
Walter Johnson's Black Student Union commented on the movement.
"The [Black Lives Matter] movement isn't based on a sole decry of American policing. The Black lives matter movement is about bringing deep rooted systemic change in every aspect of American history and policies that are anti black. We as a community have been too silent and have done too little to protect our black students during this time. The Black Student Union is committed to being a safe space of all black students as they go through the rest of their high school careers."