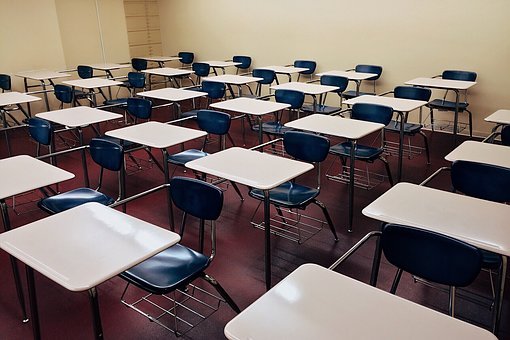 In Montgomery County, thousands of students, aged 5-18, log onto screens for up to four hours a day. It's an unprecedented school year, and it's due to the novel coronavirus pandemic. But does it have to be this way for schools? Is there another solution?
There is one and it's simple: open up the schools for in-person learning. While many people will cite health concerns as the reason to remain online, there are many medical professionals who cite health concerns as a reason to open schools. Over the summer, the American Pediatrician Association (APA) urged schools to open for in-person learning because the effects of online school are more detrimental to students' health than the risk of the coronavirus.
"Lengthy time away from school and associated interruption of supportive services often results in social isolation, making it difficult for schools to identify and address important learning deficits as well as child and adolescent physical or sexual abuse, substance use, depression, and suicidal ideation. This, in turn, places children and adolescents at considerable risk of morbidity and, in some cases, mortality," the APA wrote in their announcement.
The bottom line is that students are in a low-risk group. However, that doesn't mean that safety precautions shouldn't still be taken and many area private schools have opened in person with such measures in place.
Ethan Rathmell, a junior at the Bullis School in Potomac, MD, described the precautions they are taking. Bullis divided the school into two groups to lessen the number of kids on campus. Masks are mandatory at all times, and social distancing is enforced on campus. Students are also tested once a week, and so far, since the school year has started, Bullis has had only four positive tests out of 1730 total tests. And for teachers, who are older and at a higher risk, they can request a plastic divider separating them from the students and the rest of the room. Teachers also have the option to teach from home, as students can watch their teacher on a promethean board. Bullis' precautions are working and their students are grateful to be in school.
"I would say [in-person school] is definitely better than online because it provides more structure and routine in my life that keeps me focused," Rathmell said.
While Bullis is a private school and certainly has a larger campus with a much smaller student body than most public schools, that doesn't mean that MCPS can't do something similar. Many public school systems in the country have adopted hybrid modes that combine in-person with virtual learning or exclusively in-person learning. There's no reason a public school system like MCPS with a $2.8 billion budget can't make a plan to create safe in-person learning.
MCPS made the easy decision; there is no coronavirus risk in having everyone stay at home doing online school. But just because it was the easy decision, does that make it the right decision? The truth is that there are more factors than just COVID-19. The benefits of in-person learning outweigh the risks. MCPS should act to open schools while taking all necessary precautions to ensure the health and safety of students and teachers.