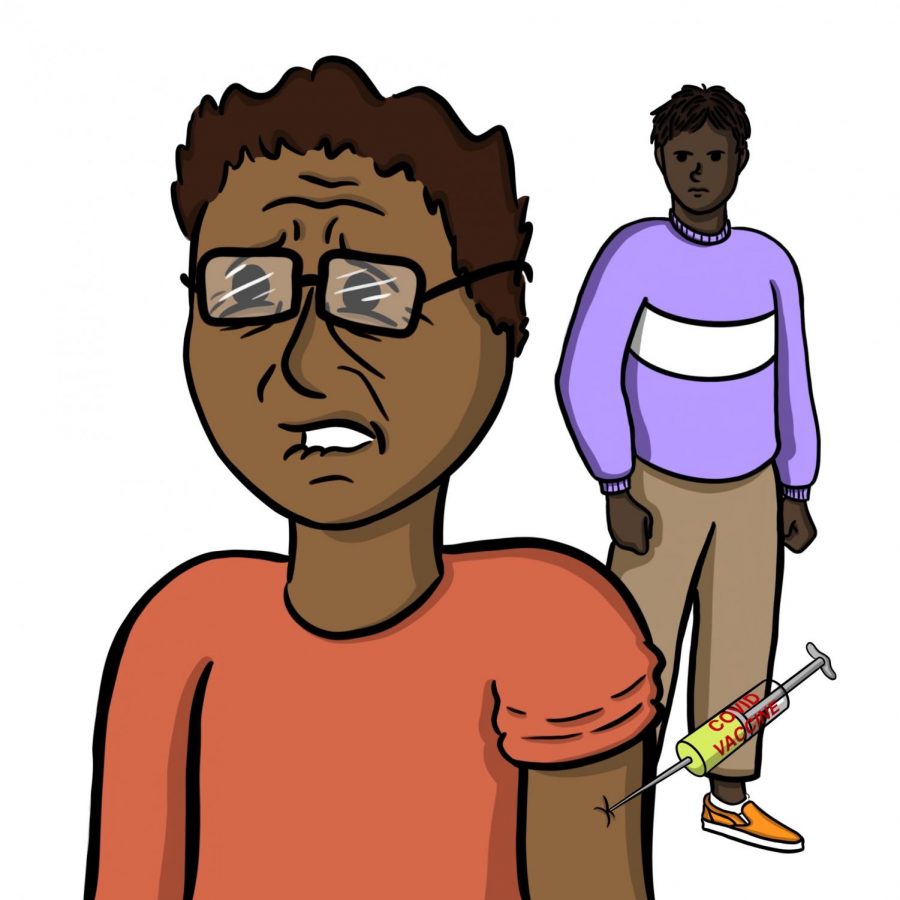 Illustration by Nora Talbott
As 2021 finally arrived, we reminisced over the past events of 2020: the deaths of Kobe Bryant, Chadwick Boseman, Diego Maradona, Justice Ruth Bader Ginsburg, George Floyd and Breonna Taylor, Joe Biden winning the 2020 Presidential Election, impeachment and the war between Azerbaijan and Armenia, but nothing was impactful as the coronavirus. COVID-19, a pandemic that many didn't (and still don't) take seriously, will surely be in history books for years to come. As the beginning of the end of the pandemic dawns on us, there is a fight over who should be first in line to receive the vaccine.
There is a universal consensus that the frontline workers bravely combatting the virus should be first in line. After that, the CDC said that nursing homes would be next in line. After the nursing home patients, the decision of who to vaccinate becomes muddy. Should people over 65 be at the top of the waterfall? What about people at high risk of health problems? Who should be vaccinated first: teachers versus students.
Some say teachers should be first because of their older age and higher health risks. Others say that students should be in line first as children and young adults act as superspreaders for the virus. However, there is no question that eachers should get vaccines before students.
Teachers are essential personnel for this country, and whether we like or dislike school, we need it to prepare us for life as adults. Teachers are much older than students, which puts them at a higher risk. CDC studies have shown that older people are at a higher risk for serious cases of COVID-19.
Furthermore, teachers who are already at a high risk teach multiple classes of students every day, exposing themselves to more people. Also, students and young adults are more likely to be asymptomatic super spreaders, which would only increase the chance that teachers who are at high risk would contract the virus.
In addition, it makes logistical sense that teachers would be vaccinated before students. The approximate rate for students per teacher is 16:1. This means that it would take much more time to vaccinate all students before teachers.
The vaccination of children takes up too much valuable time that could be used to vaccinate teachers and other essential workers. Also, with teachers being vaccinated they can get ready to begin teaching in classes again, preparing for the reopening. This would provide teachers the necessary materials that they have lacked while being stuck at home, making the teaching process much easier.
As WJ students and teachers wait for their return to school sometime in 2021, they wait for the sense of normalcy that it will bring back.. But, in order to be able to come back safely, the teachers must be the first ones vaccinated so that the students will have the same education standards that they did before COVID-19.