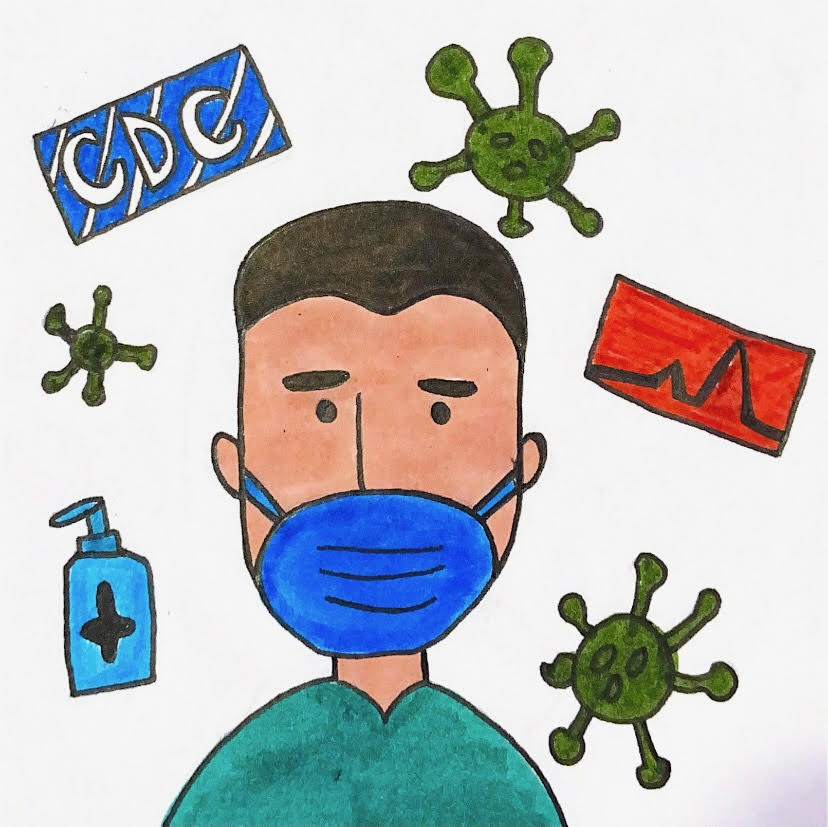 Illustration by Sloane Morra
March 12 marks the 1 year anniversary of MCPS informing students that they will be taking a temporary two week break from school because of the growing COVID-19 pandemic. It came as a shock to all students and most believed that we would be back in school after two weeks and that this whole pandemic business was just going to blow over. Two weeks soon became a never ending year of mask wearing, state wide shutdowns, pressured health cares, mental health breakdowns, splitting of friend groups and a ton of missed opportunities and memories. It's definitely an understatement to say that life isn't the same.
The closing weeks of winter and the opening days of spring brought students wearing hoodies in the morning and t-shirts in the afternoon to WJ. The groundhog had predicted an early spring and thus everyone was hopeful for an eventful second half of the year and an even better summer. I was halfway into my junior year and the pressure was on. Junior year is the most important year for high school students as it is the year you begin to think about what happens after highschool which usually means an increased level of stress and commitment to standardized test studying and your GPA.
My junior year was also my first year as a staff writer for the Pitch. I had covered a variety of stories from different sections but I mostly focused on the news section. In January, I had been looking to write an article that gives students a new recap of what was occurring outside of the United States. I had written about the scorching Australian wildfires, the killing of Soleimani and the response attacks in the Levant, and the continued opposition to the Maduro government in Venezuela. Although I did have four short stories I still wanted a fifth story for students just to round it out. I remember scrolling on the New York times app on my phone and checking The Washington Post for anything that resembled an interesting international story. And then I came upon a New York Times article about a new disease outbreak in Wuhan, China. I thought It was a pretty cool story, so I decided to add the disease as my fifth and last story for my international recap.
At the time of writing there were only about 55-60 reported cases all of which were in Wuhan. I did some research about the SARS epidemic and saw that overall the disease was not that destructive to the human race and thus I never thought anything of the virus. My opinion changed in the subsequent months.
In late February the virus was on the news from time to time but nothing really came of it. The news mostly informed citizens that something was happening but then went back to covering American issues like domestic politics and the Trump administration. Around this time I decided to dedicate a full article to the virus and cover its spread in China and the United States. Each day I would come into class and check the Johns Hopkins University covid tracker and update the amount of infections and deaths worldwide. I wrote the original article pretty quickly, I just spent most of my time updating numbers and any new information coming from the CDC. Videos soon came out of China of nurses and doctors breaking down from overworking and just general stresses of fighting the virus.
It soon became dehumanizing to work on my article as each day I would come in hopeful to see some numbers slow down or drop, but each day the numbers kept increasing by a greater multiple. As much as they are numbers on a screen, each of these numbers is one of us: a person who had a family, a childhood, a favorite food and or a significant other. I didn't need to feel this way as I didn't lose a family member to COVID nor did I know anyone that was dying because of it that early, I just felt a sense of dread and pain at seeing each digit go up by one. To me they were not just numbers on a page.
By the time of March 10, the disease had successfully infiltrated Maryland and was quickly spreading around the entire country. Everyone was beginning to realize that this virus is a serious threat and could destroy our livelihoods. And then it all came crashing down on March 12 when MCPS announced a 2 week break for all students which would turn into a year of online learning.
The COVID-19 pandemic has now killed close to 3 million people and infected more than 100 million. It is a virus that came out of nowhere and put the entire world into shock with its destabilizing elements. The virus disrupted daily life, economies, prosperity, and so much more. Many of us have probably not been severely affected by the virus – except the quarantine of course – and because of this many of us will probably choose to forget our time in quarantine or think of it as a fever dream. My final message to you all is that we do not forget our time in quarantine, we do not forget about the botched efforts to prevent the pandemic, we do not forget the deadly milestones, we do not forget the videos of nurses breaking down or the doctors overworking, and we do not forget the mass graves dug. We cannot forget about the COVID pandemic because we are living in an age where there are viruses out there that are deadlier and more infections than COVID-19 and we won't know when those viruses will explode onto the scene. By acknowledging our faults we can better prepare for the next pandemic because it may come sooner than we all expect.