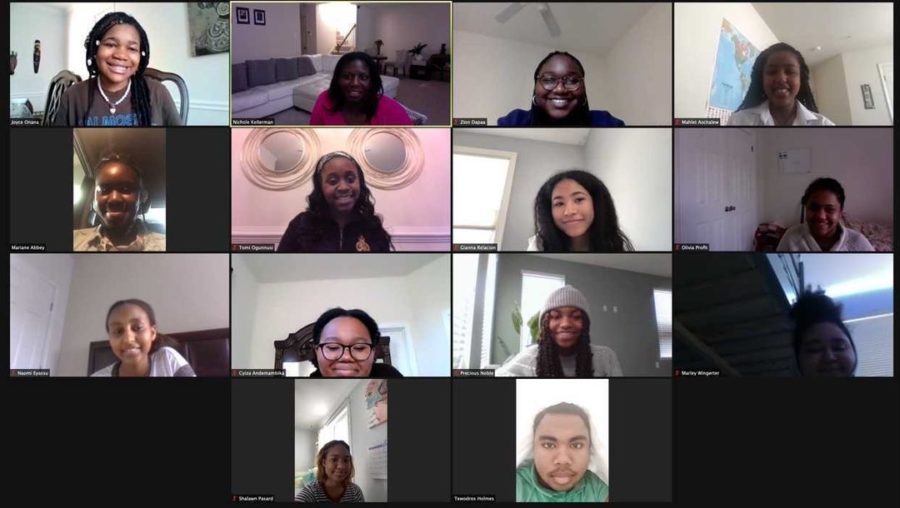 Photo courtesy of Joyce Onana
In the wake of America's most recent reckoning on racial justice, students of color at WJ are using their voices to help amplify their concerns about the school culture as well as uplift students to be the strongest versions of themselves.
The Black Student Union (BSU) has been a club at WJ for many years. Their most prominent event each year has been the Black History Month assembly they put on for the student body. In 2020, many club members were disappointed with how the assembly and the response to it turned out and committed themselves to make it stronger for next year. Junior Tomi Ogunnusi was one of them.
"The motivating factor for me to join leadership [in BSU] was to be able to make the assembly better. This was before COVID but last year I thought the assembly was very disrespectful. We didn't get the opportunity to do all the things we needed to do so that was my goal at the end of last year," Ogunnusi said.
Ogunnusi and her fellow club leaders couldn't have predicted the rising engagement on issues of race that would occur over the interim. BSU has taken advantage of this platform and has made educating the students and administrators at WJ a priority for the current school year. Junior Joyce Onana serves as BSU's vice president and she sees BSU's impact on pushing conversations about race at WJ forward as invaluable.
"Through our meetings, our town hall, and our involvement in Study Circles we've really highlighted our voice in the school community. We've basically been able to bring the Black at WJ Instagram to life. When you have this group of people and they can put a face to the conversation. They can validate these experiences as their truth and it makes everything more real for a lot of people so we've been able to get students and admin to listen," Onana said.
BSU often partners with WJ's Minority Scholars Program as well as other affinity groups, like the Hispanic/Latinx Culture Club, on events and programs. The Minority Scholars Program (MSP) is dedicated to reducing the opportunity gap and helping all students, particularly students of color, find access to opportunities. Junior Imani Safari has been involved since her freshman year.
"We are focused on sharing opportunities with our members like scholarships or internships they may not otherwise know about so that we can help them get ahead and be better prepared for college," Safari said.
MSP hosts weekly meetings often involving guest speakers and information about unique opportunities. Their meetings are opening to all students.
MSP, like most clubs at WJ, has found it hard to keep students engaged during Zoom meetings but with digital learning exacerbating the impacts of the opportunity gap, especially in Montgomery County which has seen students of color disproportionately impacted, their mission is possibly more important than ever.
Ogunnusi, who serves as an officer in both BSU and MSP, sees a lot of value in having spaces at WJ where the conversation is centered around the experiences of students of color.
"There's a lot of hateful people out there. I'm thinking specifically of the people who made the white at WJ page. We provide a safe space for POC students to express how they feel about all the things that happen at school," Ogunnusi said.